Customer Reviews — Nintendo Game & Watch Super Mario Bros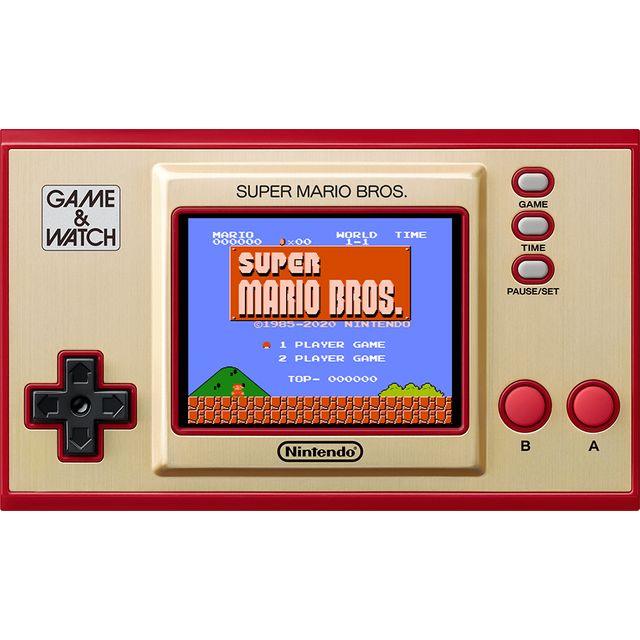 Customer Reviews — Nintendo Game & Watch Super Mario Bros
Nintendo Game & Watch Super Mario Bros
Screen

Control Pad

Game

Time

Pause / Set - Pause the game, adjust volume/brightness, or set the time
Excellent, brilliant price and really fast delivery. My son loves it!
Had my first game and watch when I was 11, I'm 50 now and bought this so I could play on my commute. Battery charges quickly and lasts a long time. Graphics are no longer LCD, although there is a little nod to those games. I love Super Mario Bros games and as it comes with games 1 and 2 it was a no brainer.
Box arrived damaged, wouldn't normally be an issue but it was purchased as a collectible. Not the end of the world though.
A great little reminder of the Game and Watch from the '80s with the advantage of a rechargeable battery! Not something you will play for long but a nice little item all the same.
This is not only a great toy for Dad, but a brilliant intro to games for a little girl or boy. The whole thing is so little and just a great fit for their little hands!
Bought this for my grandson for travelling in the car, so mum can have her mobile back!, and he is loving it. He is finding it easy to use and just right for his small hands. After a slight 'hiccup' with ordering on line which may have been down to operator error, I called AO and it was sorted out immediately. We now have an a branch in the local Superstore and will definitely look there first for future electrical purchases.
This is a classic to have
Great gift
Way better than the sum of its parts!
I did not expect to like this as much as I did. Some may argue that the Game & Watch Super Mario Bros costs too much for what it does, but I disagree. The little touches here and there accumulate into an overall experience that's well worth the money. There's 3 games on here. Super Mario Bros, Super Mario Bros 2, and Ball (the first Game & Watch game released way back in 1980). I didn't find much long-term entertainment value in Ball but SMB & SMB2 are awesome to have on such a tiny, portable device. They added nice quality of life changes such as being able to select a world you've been to without beating the game first, hard mode in SMB stays unlocked permanently, and my personal favourite, the infinite lives cheat. These game are very hard by modern standards, especially SMB2 which was designed to be ridiculously hard on purpose. The fact that getting a game over takes you back to the beginning of the game in SMB or back to the beginning of the world you're on in SMB2 doesn't help. So infinite lives make these games actually playable to those of us who struggle in difficult games like these without removing any of the challenge. To unlock it, just hold A for a few seconds when selecting a mode instead of pressing it and you'll have infinite lives. Beyond gameplay enhancements, there's plenty of fun little touches in the digital clock. There's 3 clock themes. Grasslands, sky grasslands, and sky mushrooms. Every hour has a unique animation and some specific times will even show special animations. You can press the face buttons to spawn enemies for Mario to dodge or make the time change colours. You can also hold A for a few seconds to watch the Flipnote Mario drawing song. There's many other fun things hidden in here so I implore you to find as many as you can. This is a great device and being able to play through SMB & SMB2 wherever I want on such a portable little handheld is fantastic. The quality of life changes make these games way more fun to play through too. If you want a device that can provide plenty of on the go entertainment for a relatively low price, or are getting into gaming for the first time and want something a little simpler to get started with, this is a great option. I cannot recommend the Game & Watch Super Mario Bros enough. It's amazing! There's so much to do with it and I'm very glad I got one. Trust me, it's well worth it. Highly recommended! If you want to get one too, I suggest doing so quickly. These will be discontinued on March 31st, so there's only about a week left (at the time this review was written) to get one.