Customer Reviews — Super Mario 3D All-Stars for Nintendo Switch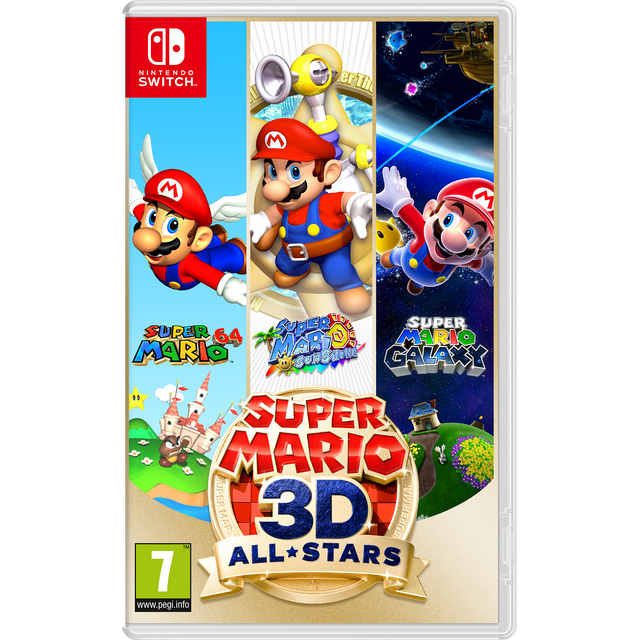 Customer Reviews — Super Mario 3D All-Stars for Nintendo Switch
Super Mario 3D All-Stars for Nintendo Switch
3 legendary Super Mario action adventure games in one

Suitable for ages 7+ so it's great for the whole family

Single player and online multiplayer modes

Online play requires Nintendo Switch Online membership

Released on 18th September 2020
Came super quick and not signs of damage at all I cant wait too play it!
its like having your old n64 built into the switch :) love a classic game !
Does exactly what it says on the box! An enjoyable trip down (recent) memory lane.
The product is great at a competitive price ! Best seen around a great game as for new to the game players as for people like me who want to turn back time and play them again .
Great nostalgic games for the fam
Good value for the 3 games, exactly the same as how I remembered them and defo as good! The graphics are great on the switch
Early Christmas present for my girlfriend and she loves it. She loved Mario galaxy on the wii and really enjoyed getting to see what the earlier games were like.
Cant leave a rating as bought for a Christmas but arrived on time and packed well so 5 stars for that but I'm sure it will be fine
Perfect game, 3 in 1 means hours of fun! Having the 3 games means no matter what mood you're in you've got a game to suite! I love the classic games, so this was perfect would highly recommend to anyone who likes Mario games!