Customer Reviews — Jura E8 15235 Bean to Cup Coffee Machine - Chrome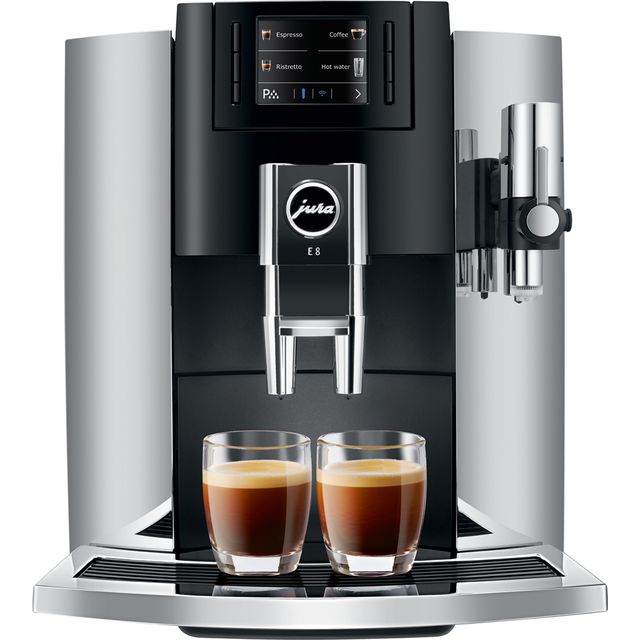 Customer Reviews — Jura E8 15235 Bean to Cup Coffee Machine - Chrome
Jura E8 15235 Bean to Cup Coffee Machine - Chrome
15 pre-programmed coffees at the touch of a button

Height-adjustable spout to suit all cup sizes

Extracts the very best flavour of your coffee

Cleaning function keeps your machine in great condition

Can be controlled from a smartphone via Bluetooth
Makes lovely coffee. Easy to use straight out of the box and looks good too
Great quality and easy to use product
The Jura E8 is the first bean to cup coffee machine that I have owned having used a pod based machine for many years. It's a big investment but after weeks in lockdown I was missing a good quality morning coffee. Having used the machine for a number of weeks now I'm very happy with it. It is very easy to set up out of the box. It makes great coffee at the touch of a button, there are lots of options and very easy to customise your choice of drink to your preference. I love being able to use real milk in my Latte or Cappuccino and the ability to adjust the froth is a real positive. My biggest reluctance prior to purchasing such a machine was the time it may take to clean and service but this machine makes it super easy. Messages appear every step of the way to guide you through and takes no time at all. The milk system cleaning is a bit of a faff and the Jura branded fluid isn't the cheapest but it's something I can live with. Thankfully I live in an area where the water quality is very good so don't expect to go through a lot of filters but did make me realise that the parts and accessories are quite costly but some items like wireless connectivity and milk cooler I can live without. Overall I would recommend to anyone looking for a good quality machine that is quick and easy to use.
Only had the Jura for a relatively short time, but finding it easy to use. There are 4 of use in the household each liking a different style of coffee, and we are all highly satisfied.
So following the great lockdown I was stuck working from home which resulted in my previous bean to cup machine expiring with the strain of me being at home so decided to upgrade! First off the packaging from Jura is superb, if only all manufacturers used a fabric sling to help you get them out of the box! It's a doodle to get started, unpack, fill with beans and power up and you're away! Espressos needed a strength tweak to be stronger, I also adjusted the grinder to be one above finest, together with my favourite beans the espresso is now simply superb with a nice thick cream. The milk function also works well, typically these bean to cup machines dispense lukewarm milk but not this E8, cappuccino was perfect, as was latte macchiato, the flat white was red hot! Adjustments to all the drinks are easy to make via expert mode and it really doesn't take much to get the machine suited to your individual tastes. Now this machine isn't cheap, it's more than twice the price of my prior machine from a different manufacturer, but genuinely it's worth every single penny!
First class service from AO. Delivered next day and on time. Very pleased with the quality and appearance of the Jura E8. It's easy to use and very intuitive, makes a lovely cup of coffee too!!
Superb Jura Coffee Machine
The Jura E8 coffee machine was a birthday gift and the new owner, my husband, is a very happy man. Great looking machine delivering fantastic cups of coffee and very easy to use. Produces a great hot chocolate via the milk dispenser which the kids live. The "boys toy" element is being able to use the app from your phone to order your coffee from anywhere in the house! Could not be more pleased with this great bit of kit.
The only 4 stars i could give because it's not included smart connection plug:( For that price should be included. Coffee have great taste in every coffee.
I spent hours watching and reading reviews. I think E8 choice was awesome. Coffee is really good, and sometimes I make another flat white (used to drink black only) because I can :) even with Oat Milk tastes lovely and makes nice foam. We did not want separate container for milk, we simply connect rubber "hose" to box of milk and after put back to the fridge. 100% I would buy again same model if I went back in time :D