Customer Reviews — Jura E8 15235 Bean to Cup Coffee Machine - Chrome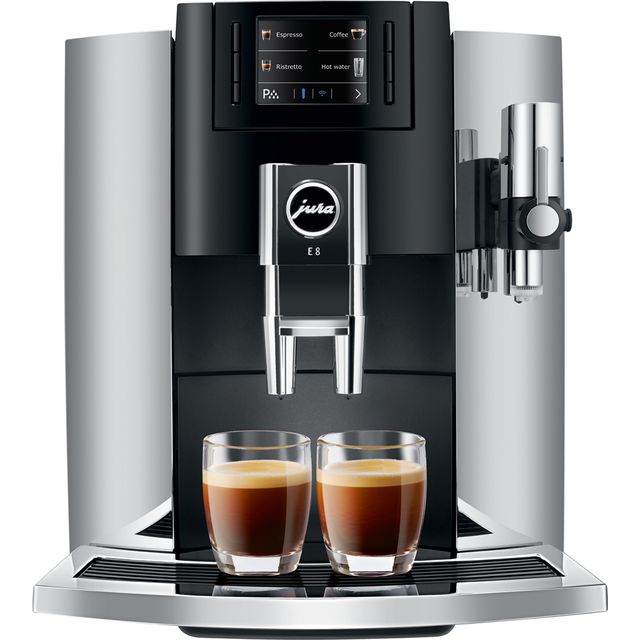 Customer Reviews — Jura E8 15235 Bean to Cup Coffee Machine - Chrome
Jura E8 15235 Bean to Cup Coffee Machine - Chrome
15 pre-programmed coffees at the touch of a button

Height-adjustable spout to suit all cup sizes

Extracts the very best flavour of your coffee

Cleaning function keeps your machine in great condition

Can be controlled from a smartphone via Bluetooth
An astonishingly sophisticated coffee machine which makes the most wonderful coffees imaginable.
Replacement for an old friend
Recently our Jura Impressa S70 gave up the ghost after 25 Years Service. We replaced it with the E8 giving us the same features and much more than its predecessor. Simple to set up and use and produces outstanding coffee. I can't recommend this product highly enough. Outstanding!
So pleased with this purchase. It took us ages to decide which machine to choose. This is so easy to set up and the on screen instructions make it so easy to use. I would highly recommend the Jura E8. Choice of drinks is a good feature to this machine.
Looks stylish, very simple to setup and operate, makes fantastic coffee. Beware the running costs - you need water filters, milk cleaning fluid and plenty of coffee beans.
JURA E8 Bean to cup machine
Excellent bean to cup product Fantastic Cappucino and Ao provided wonderful service at a great price
This machine compares well with the more expensive bean to cup machine manufactured by Siemens which I use regularly when visiting my son and his family in Germany.Service from this distributor was first class and although I ordered the product whilst in Germany it arrived as promised the day after I returned to the UK
This is our first bean to cup coffee machine. The instructions are easy to understand. Once you have worked out your cup size and coffee strength the results are amazing. Better than high street coffee if you use fresh beans. Love it after 2 weeks. Fresh coffee is my new best friend. A must buy product for coffee lovers. Thebest coffee maker i've ever bought. A must have for coffee lovers.
I have to say I do love this machine it does everything I ask of it and make a lovely flat white which is my favour coffee first thing on a morning plus you can fit a travel mug under the milk system but I don't think you would be able to under the black coffee part of the machine which I don't really mind has I don't really drink black coffee but that maybe an issues for some people but you would get a stranded size coffee cup under that part no problems at all I also like that you can just get hot water out of it has well there is also a green tea setting out it has well not try that yet another good feature is you can pick if you what frothy milk or just hot milk in the drink it would have been nice if Jura had included Bluetooth in the system has well but to be honest I am not sure if I would have ever used it my overall view of this machine I love it.