Customer Reviews — Rapoo 9300M Multi-mode Ultra-Slim Desktop Combo Bluetooth / Wireless USB Keyboard with Optical Mouse - Black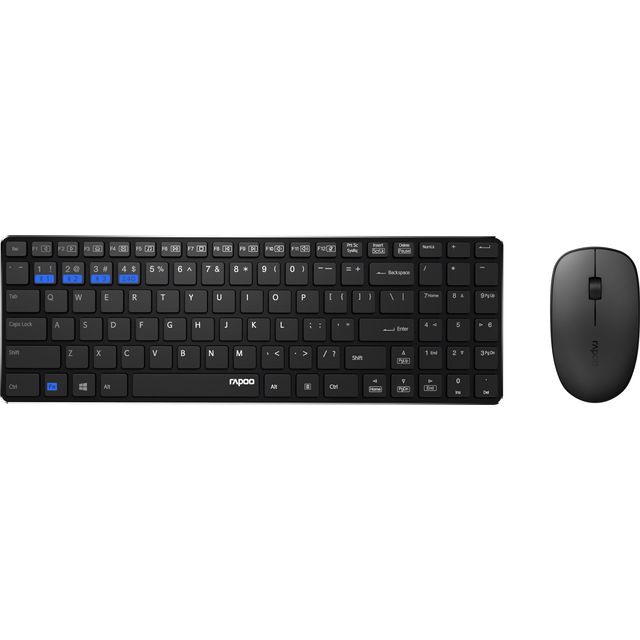 Customer Reviews — Rapoo 9300M Multi-mode Ultra-Slim Desktop Combo Bluetooth / Wireless USB Keyboard with Optical Mouse - Black
Rapoo 9300M Multi-mode Ultra-Slim Desktop Combo Bluetooth / Wireless USB Keyboard with Optical Mouse - Black
Multi-mode wireless connection via Bluetooth & 2.4 GHz

Compatible with Windows computers

Control videos and music with the media keys

Numeric keypad - easy access to numbers

Optical mouse included
Patchy bluetooth connection
The build quality is sturdy, but the keys themselves are a little sticky and need more pressure than I'm used to using. Most frustrating of all is the signal between my laptop and the keyboard is forever falling out/in. It also seems to have a mind of its own and types multiple letters when I've only hit the key once, e.g. I neeeeeeeeed to feed the dog. I wouldn't recommend I'm afraid.
I am happy with this product.
Good basic pc, not the fastest obviously but for the price it's good.
Well made, compact and always reliable. Great for using on any android media device.
Revolutionised tablet use!
Amazing, it's allowed us to use a tablet like a desktop/laptop and has really helped with homeschooling an 11 and 13 year old during the pandemic! (we also plug the tablet into a monitor)
Good solid keyboard. Connects very quickly, also small enough to work and yet pack away at the end of day.