Customer Reviews — Russell Hobbs Mini Kitchen Mini Oven - Black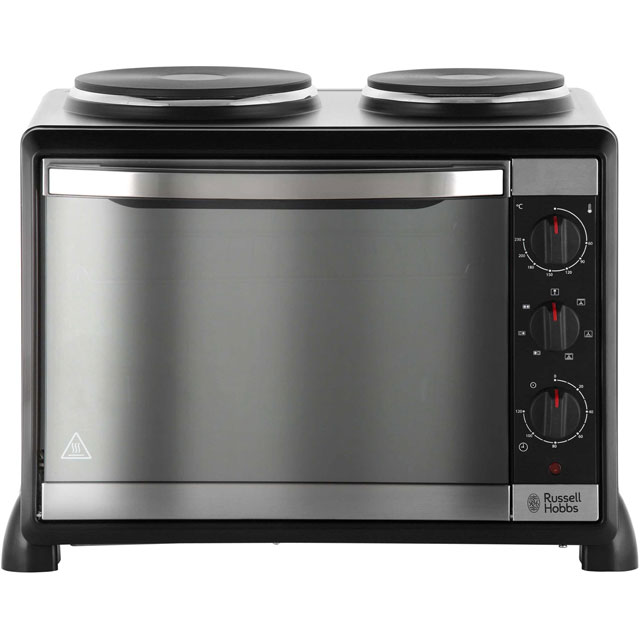 Customer Reviews — Russell Hobbs Mini Kitchen Mini Oven - Black
Russell Hobbs Mini Kitchen 22780 Mini Oven - Black
1600 Watt power output

Set the timer for perfectly cooked food

Fan assisted oven for evenly-cooked results

Defrosts food quickly and hygienically

3 year manufacturer warranty for peace of mind
I would have no hesitation in recommending this product
Well, even though I measured the space, the oven seems bigger than I expected! I have changed things and it all works well. I'm happy with it!
This mini oven was a replacement for a similar older model by Russell Hobbs. The older version was larger and could cope with proper cooking. Unfortunately no longer being manufactured. This one is disappointingly small and can't fit some of my larger cookware. But that said, it works just the same, has the same great convection fan which cooks food faster, and has the added bonus of a timer.
I'm nicely surprised by the quality of this mini kitchen. Its easy to use, despite some reviews I read on other sites, its also very spacious inside, I can easily fit a pizza in, which was something I was worried about, I've cooked about everything you can cook in a regular oven in this. It heats up very quickly, and cooks evenly and consistently. And is nice and quiet, unlike the halogen oven I replaced with this. I don't use a main oven as there's only me and my other half, so this suits my needs perfectly. The hobs on top also heat up very quickly, I've used stand alone rings before, and they can sometimes be a bit underpowered to boil a large saucepan of water, or a large frying pan, but this does it with ease. I would definitely recommend this oven for anyone!
Excellent oven and excellent hob. Gets very hot and works like a normal oven. Only issue is you cannot use oven and hob at same time.
On the whole, it's great, especially for the money, but just a couple of reasons I can't give it 5 stars. You can't have the oven and the hob on at the same time; and there's no temperature control for the hob. Apart from that, I'm glad I bought it, and overall I am really happy with it.
Russell Hobbs Mini Kitchen 22780 Mini Oven
wonderful item for a small family. Does everything a big oven does but better. Heats up in seconds and cooks everything perfectly thanks to the built in timer. I cant fault it and the price is amazing too. Well pleased with this purchase.
I bought this for a small bedsit let. It's perfect for one person to cook a meal. Oven large enough for a small chicken or casserole dish. 2 hob rings, which is plenty for just one or even 2 people. It's small enough to not be obtrusive, but large enough to do the job well! Very happy with it.