Customer Reviews — Russell Hobbs Inspire Filter Coffee Machine - White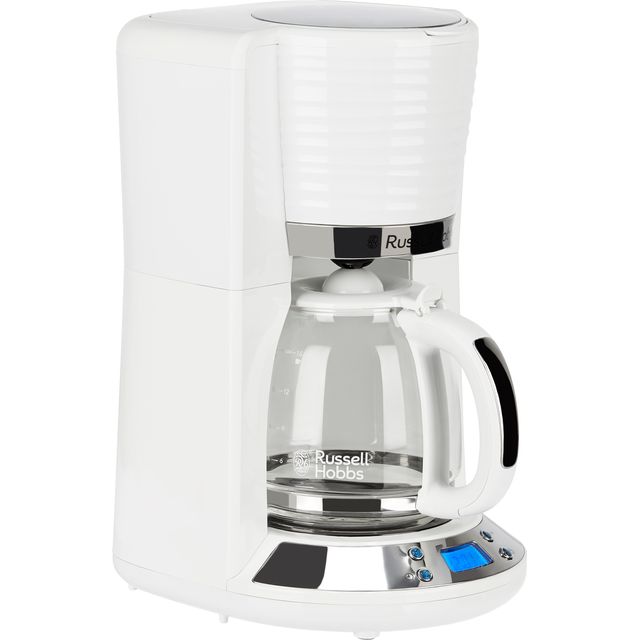 Customer Reviews — Russell Hobbs Inspire Filter Coffee Machine - White
Russell Hobbs Inspire 24390 Filter Coffee Machine - White
Makes up to 10 cups at once

Special setting keeps coffee warm after it's brewed

Evenly disperses water for maximum flavour extraction

Pause and pour while the coffee is still brewing

Programme your coffee to brew with the handy timer
Modern sleek does the job
It is beautiful and very modern
Russell Hobbs filter coffee
Really happy with our Russell Hobbs inspire filter coffee machine, easy to operate and great taste, love the timer option also.
Very nice looking and easy to set up coffee machine. I like the fact that I can set up a time and woke up to the fresh made coffee
Really good simple product. Very simple to set up and use and a very stylish finish aswell.
Looks the part, but a little impractical
The machine looks very nice, especially suiting our all white kitchen, but there are a couple of rather impractial features to it. Firstly, the design of the lid makes it very difficult to use to fill up the resevoir with it. Also, the clock function is pretty clunky to set up, with a fairly impractical way of resetting the timer if you enter it wrong. Other than that, it is a decent looking machine and works well in its primary function, just the setting up of it isn't very well thought out.
I have only had the coffee maker a few days. I bought it to match inspire coffee kettle and toaster. It looks nice on the counter top and makes a decent cup of coffee. I only have a few minor complaints: the carafe is a little on the small side as well as the opening which doesn't make thorough cleaning easy, it would be nice to have it stay warm longer (though I am aware this is regulation and not in the control of the, manufacturer), I seem to have to fold the paper filters a little smaller than with other coffee maker brands. It would also be handy for the instructions or the scoop itself to say how much coffee it holds. I haven't used the timer function as prefer the coffee as fresh as possible, so can't comment on that. Time will tell how long the product lasts.
This machine looks lovely & modern in my new grey & white kitchen. Does just what it says, hot cup of coffee in a few minutes, keeps warm, easy to use. Well worth the money