Customer Reviews — Nintendo Switch Pro Gaming Controller - Black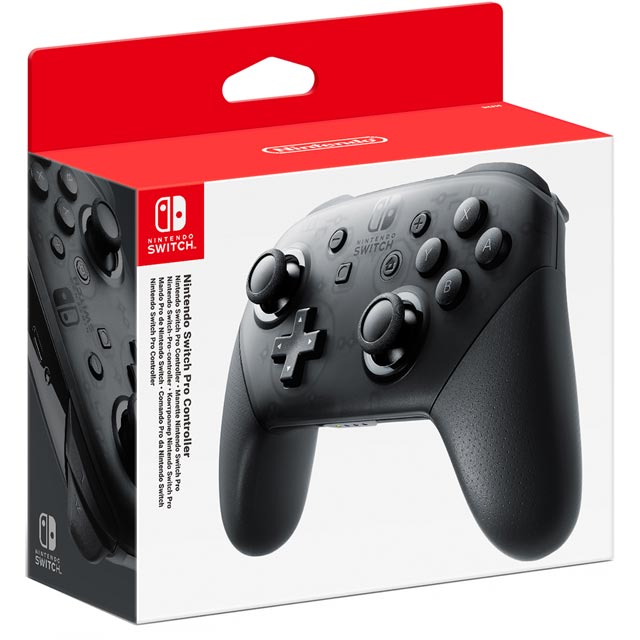 Customer Reviews — Nintendo Switch Pro Gaming Controller - Black
Nintendo Switch Pro Gaming Controller - Black
Pro Controller for Nintendo Switch

Connect to the console wirelessly or via USB

HD Rumble creates precise vibrations for immersive play

40 hour battery life for handheld gaming

Recharges when connected to the Nintendo Switch console
Excellent controller. Battery life is great and feels comfortable in the hands
A great controller at a great price
This controller is so much better than using the Joy cons in the grip and still has the motion controls. This makes it by far the best way to play some of the bigger games on switch like Skyrim, Witcher 3 and Zelda
Great product, quickly delivered
Considering the current pandemic situation, it is a great product for some downtime gaming. Regarding the product, yes it may be expensive, but it really is the only good way for prolonged gaming with a Nintendo switch. It's really comfortable to hold and the battery life so far is awesome (some saying it should last around 40-60 hours!). I would recommend this for anyone who wants to game with a good controller which feels sturdy and should last long. I'm glad I didn't go for a cheaper alternative as this should last me much longer in comparison.
The quality of the project is amazing. I've got a third party controller and the pro controller is better in every way. The battery life on this is around 4x better than any third party controller.
Didn't like holding the system so thought I'd leave the switch in the cradle and play with a pad best decision ever much easier in my opinion pad does everything I need it to
Been using this for around a week for zelda, beyonetta and super metroid. I am finding it much easier to control than the joycons, particularly the d-pad which is a traditional design rather than separate buttons. The analogue sticks are excellent, as is the overall weight, battery life and build quality. The face buttons are on the large side so those with small hands may not find them ideal.
Was easy to use and charge, able to play games such as fortnite way more easily.
Why settle for anything less
Solid well built controller, works the way it should. You're not just buying a brand, its a quality product. It is worth the money, and if you need to save to buy it, then you should. No regrets here.