Customer Reviews — Bissell CrossWave™ Cordless 2582E Wet & Dry Cleaner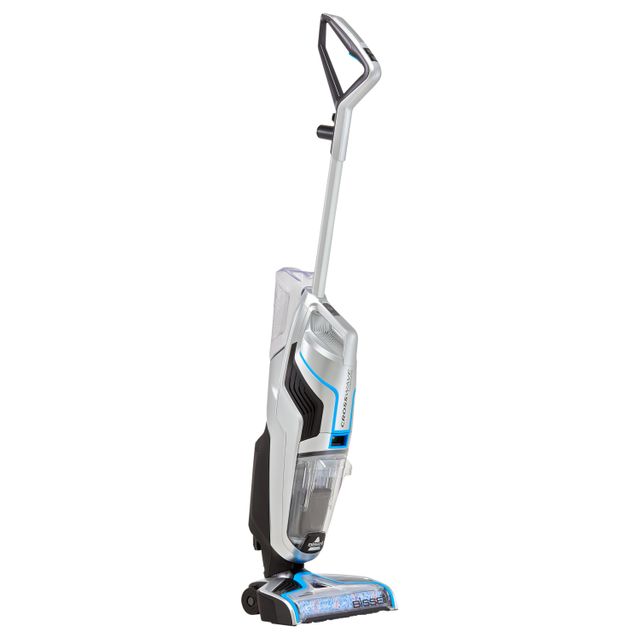 Customer Reviews — Bissell CrossWave™ Cordless 2582E Wet & Dry Cleaner
Bissell CrossWave™ Cordless 2582E Wet & Dry Cleaner
Bagless cleaning - easy empty and no bags to buy

Clever brush roll works on both carpets and hard floors

Vacuums, washes and dries at the same time

Uses separate tanks for clean and dirty water

Includes a special multi-surface formula
Great cleaner a must have
I wanted a cleaner that is easy to use cleans excellent and cordless
Best duel cleaner I've found
This is a game changer in cleaning floors! Even picks up the cat litter that my previous vacuum didn't. No need to vacuum and mop separately anymore. The only negative I've found is that it can leave a residue sometimes. Might take some practice to know how to best use it as I've only had it about a week but overall very pleased with it.
Easy to use. Cleans well. Easy to clean the machine after use.
Fast cleaning- perfect for pretty clean surfaces
Overall a good product. It does what it says. The hoovering is not super powerful and the big head cannot fit small weirdly shaped areas. This product is great for shallow, fast clean of surfaces which are not heavily dirty
I am thrilled with this machine. So easy to put together, use and clean. I bring it out every 2-3 days and it does a really good job. My floors are mainly tiles and wood, and I only have a small area rug in the living room. The crosswave did a great job on the hard floors, but not so much on the rug. To be fair, the stains on my rugs were quite old, so I sprayed them with stain remover before hand and tried again, and it did much better. It is not too loud but not quiet either, if you want to compare it I would say it's about 30% louder than my cordless dyson vacuum. Amazing purchase overall, and would definitely recommend it.
Once I realised you didn't need to hold in the button on the handle in all the time. It was great. Cleaned my wooden floors really well. I think it would have benefited from having written operating instructions as well as the pictures but I got there in the end. I love that you can go from hard floors to rugs without any hassle. Not used the self clean function yet, but I will do next time.
Bissell crosswave cordless wet and dry cleaneri
I think this should come with attachments so that you can get into corners . It has a good run time the vacuum could be more powerful as I found it would leave clumps. I like the feature of clean water going in separate tank from the dirty. The lights too help.visually. the weight of machine is good and the swivel movement a great asset. if you have pets good for picking up fur . Would be helpful to have one other crosswave roller in package while the other is being cleaned. Comes with cleaning solutions which is a nice complement.
New generation of hard floor cleaning
Fab bit of kit. Very easy to assemble/operate, once you know you must squeeze the trigger under the handle to wash the floor! Vacuums and washes your hard floors all at once and really works! Cordless makes it simple and lasts about 25 minutes once fully charged. Don't ring the Bissell helpline though they've all been on the Basil Faulty 'Customer Don't Care' course. Rudest man I've ever spoken to! AO staff are lovely though!