Customer Reviews — Bissell Steam Shot 2635E Steam Cleaner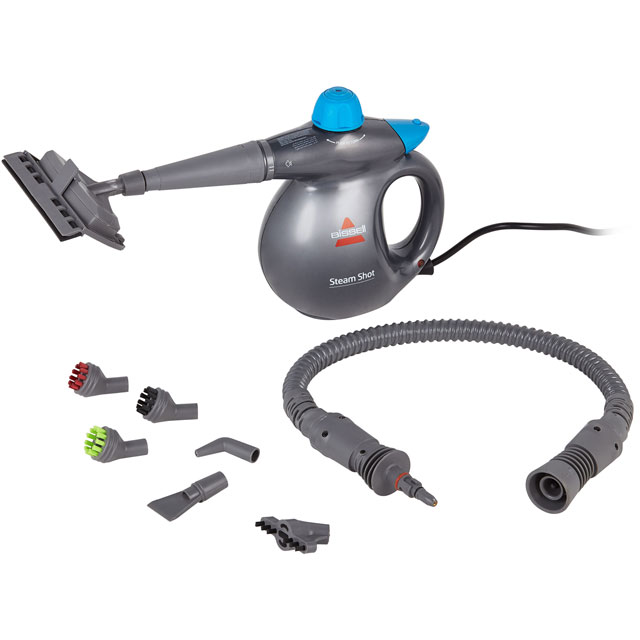 Customer Reviews — Bissell Steam Shot 2635E Steam Cleaner
Bissell Steam Shot 2635E Steam Cleaner
Full tank gives 15 minutes of intense steam cleaning

360ml water tank capacity

Heats up in just 1 minute

Can spray an extra burst of steam for tough stains

Above floor cleaning is easy with the handheld option
A good product, cleans really well,easy to use and has usefull attatchments.
The steamer heats quickly and comes with a good selection of attachments, however I don't think it makes cleaning any easier. I have found it hasn't been great on tiles but has been good on taps and plug holes. I haven't used all the attachments yet so I can't comment on everything.
This is a fabulously designed steam cleaner, its easy to use, comfortable to hold and work with the selection of attachments that come with it, there really is something for every job! So Far I have used to Clean my Oven, effortless and has left it like new! I also Remove Creases & Stains / Marks from non washable items, Cushions, Fabric Blinds gave them a new fresh and clean look. Noting gets it clean like a bit of steam!
I didn't check the dimensions before ordering this & was a bit dubious when I saw how small it is. But it steams really well and is easy to use. Recommended.
Excellent product does the job it states
Great environmentally-friendly cleaning tool
Perfect for cleaning without products. Clean tiles and spruce up grouting with the attachments, as well as windows with the squeegee tool. Extension tube is really useful.
I have not had much luck with hand held steam cleaners I have bought in the past. Performance has been variable and none has lasted very long without some fault developing. I decided to try the Bissell version on the basis of good reviews and have been very pleased with results so far. It is quite a lot dearer than others I have tried but seems well worth the extra money. Cleaning performance is good and the design eliminates some of the weaknesses I have found with other makes. Hopefully it will also last well.
Not as powerful as I thought
I was expecting the steamer to be alot more powerful than it was, I bought it for cleaning small gaps in the shower screen and also my oven, it did the job but still needed a bit of elbow grease as well