Customer Reviews — Morphy Richards Power Steam Pressurised Steam Generator Iron - Green / White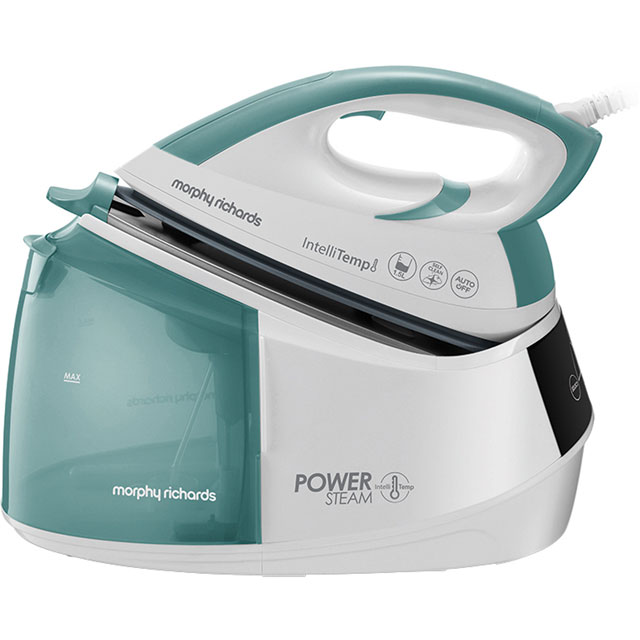 Customer Reviews — Morphy Richards Power Steam Pressurised Steam Generator Iron - Green / White
Morphy Richards Power Steam 333300 Pressurised Steam Generator Iron - Green / White
Pressurised for extra powerful crease removal

Ceramic soleplate glides easily over all fabrics

1.5 litre water tank capacity

Clever technology - one setting irons all fabric types

Descaling programme flushes out limescale
This product does everything it says. Highly recommend it.
Sadly there are a few oddities about this product you cannot stand it up on its heel, and also the heating element is difficult to navigate , so not in love with this iron and finding I am using an old standard one more.
Has made ironing so much easier. Still have loads, but breezing through them now!
I'm a little disappointed with the steam as it doesn't produce as much as my previous iron and the base of the iron isn't flat so can be put down onto the ironing board only the base.
Had a similar iron before (different make) which didn't need to change temperature settings so will have to get used to this one. Not happy that I need to buy new descalers as I don't believe this was mentioned in product description. But as long as it lasts longer than previous one. What I do like is that it is a compact iron and easy to understand
Very good steam iron could do with being a bit lighter as this is heavier than the last one Still a very good iron
Nice and easy to use and lightweight. Great iron for the money
bought this to replace an older model which was a morphy Richards. This model is smaller and lighter which is a good thing . Irons well and produces plenty of steam. Only downside is it has a slight ticking noise occasionally to produce the steam which can be annoying.