Customer Reviews — Morphy Richards 361000 Handheld Garment Steamer White / Blue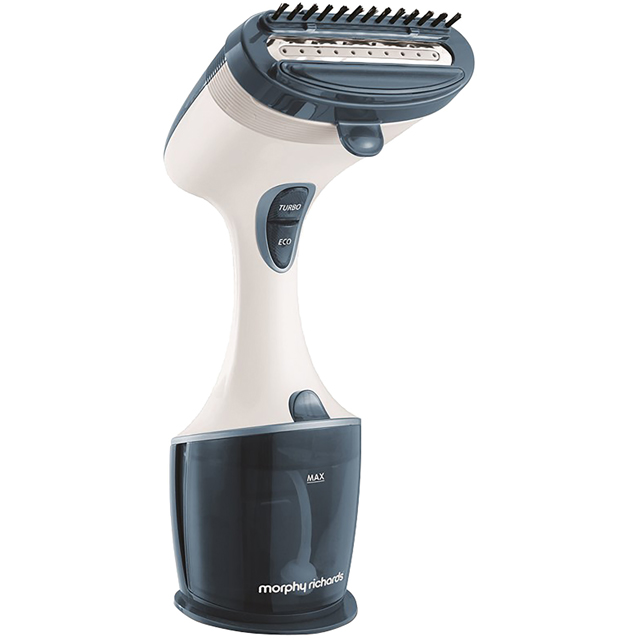 Customer Reviews — Morphy Richards 361000 Handheld Garment Steamer White / Blue
Morphy Richards Express Steam 361000 Handheld Garment Steamer - White / Blue
270ml water tank capacity

Heats up in just 35 seconds

Continuous steam output of 35 grams per minute

Dual Steam options - save water or banish tough creases

Handy lint brush makes steaming even easier
This product is such a time saver.....excellent purchase really happy with it ????
I bought it to iron my shirts and trousers, it does a brilliant job also I using it to kill all the bacteria around in my house, curtains, carpet, sofa, pillow and bed sheets. It is easy and fast to use, light and you can use it in vertical and horizontal without dropping a drop of water on your clothes. If you are in hurry to go to work and you need your clothes ready in less than 5 min. I recommend to buy it. 5 stars ??.
Fantastic. So pleased with this purchase.
I found this to be more difficult to use than what some of the reviews were saying. You also need to have something at the back of the clothes as it can leave you door/wardrobe door wet. It was bought to freshen up clothes that had already been ironed but where left creased when taken from the wardrobe I it does the job, I also found that you need to do this a while before you wear them as it can leave your clothes damp. This is for the use of freshening up your clothes and smoothing out light creases it is not a replacement for an iron.
My iron is almost retired
I can't believe how easy it is to get that shop crease free look. Not to heavy, holds sufficient water and sometimes meds a couple of going over. Main thing is it's not as hot as standing there fit hours at an ironing board in the heat, I've not use it on curtains etc but I didn't buy it for that purpose. Very happy with results and great value for money.
Very good only tank on a small size but good size for handheld. 4star as am still getting used to it.
If you're anything like me you'd try to avoid ironing. This steamer is exactly what you need. So easy to use and leaves garments crease free in no time. Happy times!
This is an asset to me, I despise ironing but this is a life changer, the creases are removed in seconds and no sign of dampness another excellent product from Morphy Richard's