Customer Reviews — Thrustmaster Ferrari 458 Spider Steering Wheel & Pedals - Black / Red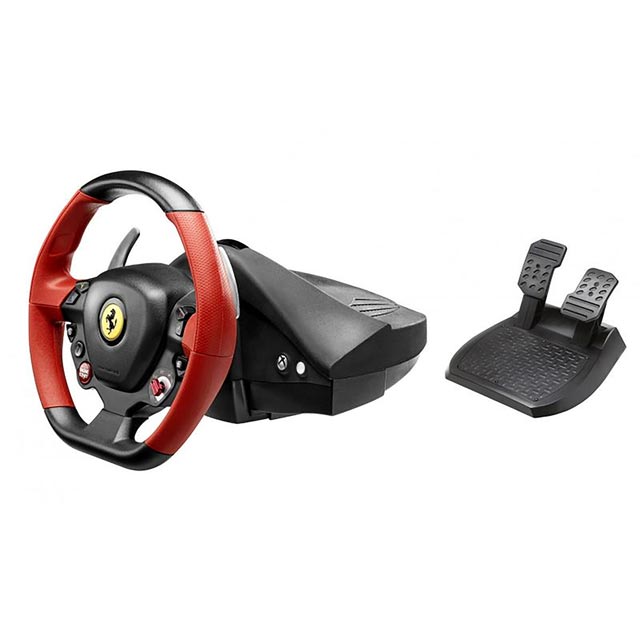 Customer Reviews — Thrustmaster Ferrari 458 Spider Steering Wheel & Pedals - Black / Red
Thrustmaster Ferrari 458 Spider Steering Wheel & Pedals - Black / Red
Compatible with Xbox One

Steering wheel & pedals give a real driving experience

Easy access to all game controls and buttons

Paddle shifters for racing gear changes

Realistic 240 degree lock-to-lock rotation
Excellent for my son he loves it never off the computer
Works well with most racing games on xbox one. Good price compared to other well known companies
Great product and service
Great product great service, every company should operate like this.
So far so good. My son loves it and my experience with it so far has been very positive. It's feels robust and is responsive in game. The paddle shift last are excellent and it can easily be used to navigate the Xbox dashboard and in game options. It most definitely enhances the experience of racing games.
Not used yet but looks great.
It's a present so it hasn't been given/used yet but it looks great and is exactly what my son wants. He spent time looking at various options and decided that with the paddles on the wheel it was the best fit for his game playing needs. Nice packaging which shows the content.
Really robust wheel with awesome force-feedback. Secure packaging and easy instructions.
Superb quality, looks great and works as good as it looks. Needs a proper wheelstand to get the best out of it. Love any driving game and this just makes them all that much more fun