Customer Reviews — X Rocker XR Racing Wheel - Black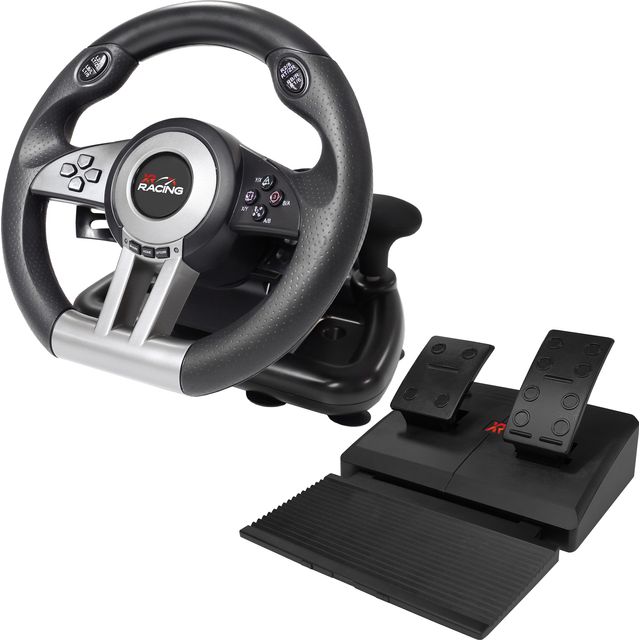 Customer Reviews — X Rocker XR Racing Wheel - Black
X Rocker XR Racing Wheel - Black
Compatible with all games consoles and PC

Steering wheel & pedals give a real driving experience

Easy access to all game controls and buttons

Built-in motor provides realistic feedback

270 degree lock-to-lock rotation for ease of use
Fab, my son loves it & was easy to connect etc so win, win!
The xRocker XR Racing wheel was the perfect buy for my grandson, great starter steering wheel, love that it has a gear shift and pedals, he feels like he's really driving when using it. Would highly recommend this product.
It's great, my son loves it, uses it for all his games on the Xbox One S. very easy to connect and set up. The price is an added bonus, it comes with a clamp so you can clamp it to the table. You can also use the paddle by the side of the steering wheel if you don't want to use the pedals. Amazing I would recommend it.
Bought as a gift for use with an xbox
Looks great and quite sturdy. Not been used yet as it's a gift for my grandson for Christmas but I think he'll be pleased.
Great little bit of kit. Very responsive.
This was on my grandson's wish list for his birthday, he is over the moon with it Suffice to say he hasn't been out of his bedroom much with playing his new racing games - even on his birthday!!!
Worth it ( for beginners )
It's a really good starter wheel if your just getting into racing , it can be used on gta also which is fun
As described and delivered very quickly. It is a Christmas present so we have not yet used the product. I am sure our son will be delighted ??