Customer Reviews — Philips 55PUS6554 55" Smart 4K Ultra HD TV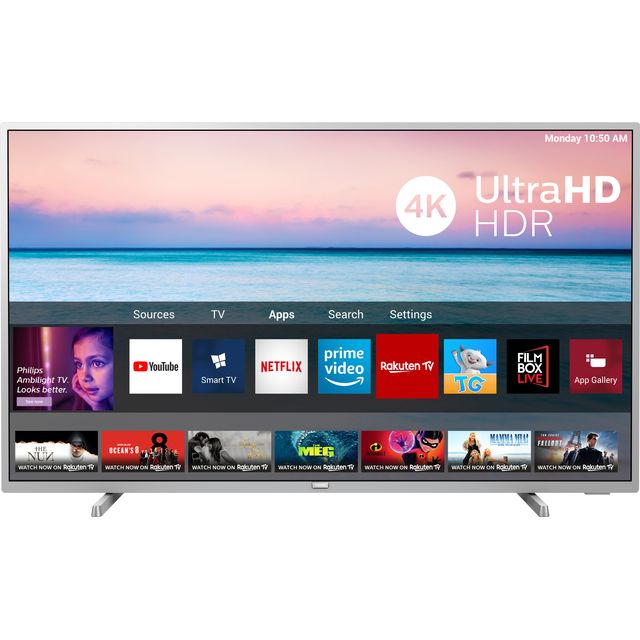 Customer Reviews — Philips 55PUS6554 55" Smart 4K Ultra HD TV
Philips 55PUS6554 55" Smart 4K Ultra HD TV with HDR10+, Dolby Vision, Dolby Atmos and Freeview Play
4K Ultra HD with upscaling - incredible picture quality

HDR10+ and Dolby Vision for amazingly vibrant colours

Smart TV - catch up, movies & more

Freeview HD with Freeview Play - live & catch up TV

Intuitive SAPHI dashboard is super-easy to navigate
Brilliant picture and sound, definitely recommend!
Good all round tv, quick internet for streaming.
Overall very happy the colour is great for our grey theme. The tv itself has good sound and picture quality. For me the only extra I would of liked is buttons on the side of the tv for when you can't find the remote etc.
Amazing price for all you get!
The screen picture is of a very good quality, we will use this TV a lot for gaming and the picture quality in 'game mode' is very vivid and clear. The sound is also very good and the apps you get with it are all you need. Everything works well, very happy!
The tv is outstanding,picture quality is perfect and the sound is also and to top it of it looks great.
Big, bold but a little underwhelming
Bought this as an upgrade to my 43" Smart led TV that I've had for a few years. Seemed like a really good price on AO as most things always are.... Couldn't find a professional review for this exact TV but the reviews on AO gave me some confidence and I know Philips usually make good products, so I went for it. IT ARRIVED, IT WAS HUGE. Getting out of the box is a bit of a faff, but alot easier when there's 2 of you. The inputs are all nice and accessible, and the TV itself is nicely made and feels quality. Albeit with a retro silver plastic frame to the screen that I haven't seen since the 00's. The plastic does feel quite fragile and would probably crack if you caught it on the corners but its what's in the frame that matters! Skip to the set up, it's easy.... it's nice to have a qwerty keyboard pop up rather than the old fashioned pressing the buttons for 3 years to get your overcomplicated WiFi password in correctly. Updates took about 5 minutes and we were away!! The screen is lovely, it's crisp and sharp, the details are brilliant even when on this huge screen, the 4k really does show through when you stream some 4k content or use a 4k console. I instantly saw the difference..... My one and only complaint is that there was no back-light brightness adjustment, so at times the screen could seem a little dark. The image modes are very good, it's nice to have a dedicated games setting which works, it can be a little jittery at times but then that's probably more the console lagging whilst up scaling the game to 4k. The menus are all very simple and easy to access, there's nothing complicated about the TV as a whole the smart features are easy to access and the remote does a wonderful job at helping as it hasn't got 1000 buttons to search through! Overall I'm very happy, I have it 4 stars purely because of the lack of a back light brightness adjustment which I found most lower end tv's have as standard. But if you're using it purely for TV and not constant gaming you're never going to notice :)
Great for gaming. Easy to set up. Fast set up. Sound & vision amazing when watching films. Ultra HD 4K amazing. Finally the price; unbelievably good! Have two of these Phillips TVs now in different sizes. Both brilliant!
Very difficult on couple things
Pros: 1) TV appearance and design is sleek and bold stylish. 2) Dolby vision is vivid, sound system is excellent 3) Miracast option, few HDMI input more or less the same as other smart TV Cons: 1) The battery cover casing is very difficult to open at the first time, I had to pressed hard and push open to insert the batteries. 2) Remote control receiver in a very odd position, you had to point to the right bottom of the TV, this is so no good. I don't like it. 3) All the input (power, Hdmi) so difficult to plug in the cable into the input, very not smart design in this, absolutely ridiculous. 4) Serial number and model sticker located in the center back of TV, which is okay. But I prefer it go on the side of the TV either left or right side. It easier to take a picture or check on it when you needed. 5) TV stopped working in less than 2 months. 6) Miracast keep disconnected from the device you synced. And some video you sync only able to show as in your phone size, unable to enlarge / expand the window. I don't recommend this TV.
Arrived on time and day as predicted. Easy to set up. Very good picture quality. Happy with TV.