Customer Reviews — Philips 55PUS6754 55" Smart Ambilight 4K Ultra HD TV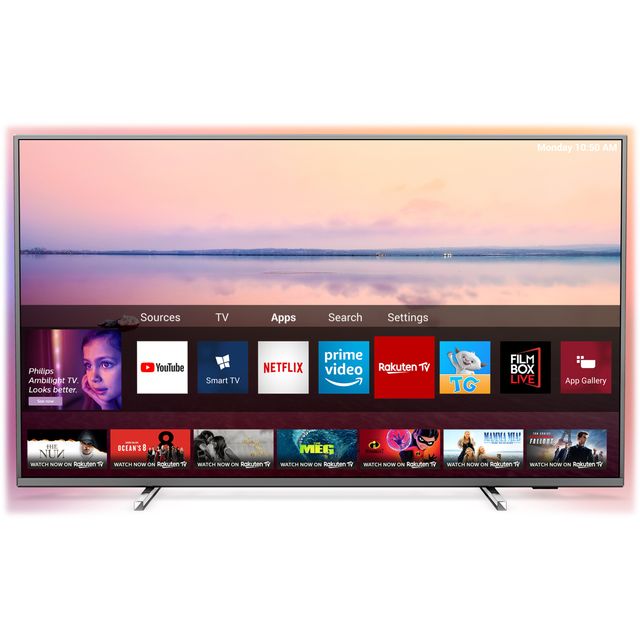 Customer Reviews — Philips 55PUS6754 55" Smart Ambilight 4K Ultra HD TV
Philips 55PUS6754 55" Smart Ambilight 4K Ultra HD TV with HDR10+, Dolby Vision, Dolby Atmos and Freeview Play
4K Ultra HD with upscaling - incredible picture quality

HDR10+ and Dolby Vision for amazingly vibrant colours

Smart TV - catch up, movies & more

Intuitive SAPHI dashboard is super-easy to navigate

3-sided Ambilight projects onto the wall around the TV
Brilliant TV, looks neat and the Ambilight is well worth the extra money. Would definitely recommend.
Backlighting feature is incredible. Picture resolution and the unit itself looks great and superb value.
Even better than I thought
Was very close to ordering the 65inch but opted for the 55inch last second. Good choice for us personally. Ours is not placed on the wall but on a TV bench which actually turned out to be the right call - any bigger then we would have lost out on the full impact of the ambilight as the bench has bookshelves either side (if the space was larger would have gone with 65inch though for sure) - the ambilight adds so much more than I thought, the fact that we have it off the wall and has a white wall behind it gave it room to really go to work. Police cars driving past in films looks really impressive and gives an immersive feel, make the screen feel larger than it is. The light is more than a gimmick and would miss it if I had to go without it now. The picture quality, sharpness, colour and detail is stunning. Its great quality for 4k netflix, general HD film anyway and God of War on PS4 looked sharp and great too (and that's on a standard PS4 not a Pro as well) In terms of sound its more than passable but accompanied with a soundbar this really does feel like a cinematic experience.
Ordered this to replace a different smaller TV, can't believe the difference, with the lights in the room off you get immersed in what's on the TV with the added advantage of the ambilight. You hear alot of reviews about not going back to other tvs because of the ambilight I agree, well impressed.
A beautiful looking TV and great quality viewing, love the backlighting, makes watching anything feel exciting, even the news! Easy to set up and to use. Really pleased!
The quality of sound and vision is excellent and the Ambilight really adds to the atmosphere when having a cozy film night in. Easy to set up and looks great in the room.
Great looking product with good features very pleased with it
Ambilight is very impressive and 4k works well with suitable equipment