Customer Reviews — Philips 65PUS8535 65" Smart Ambilight 4K Ultra HD Android TV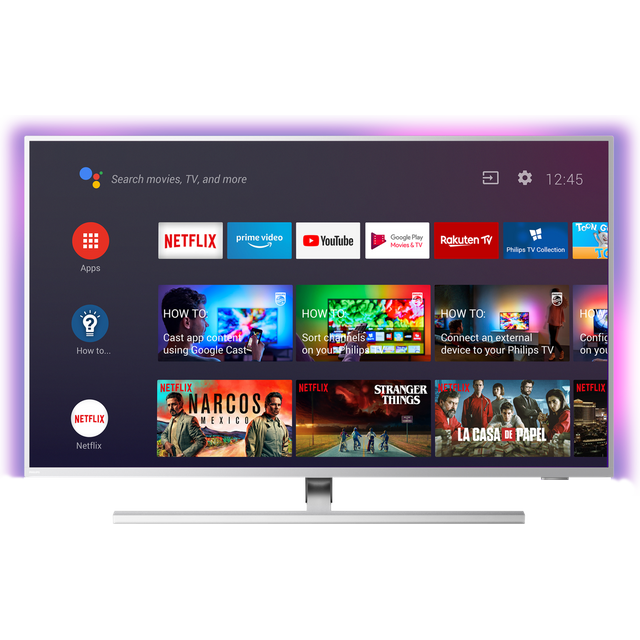 Customer Reviews — Philips 65PUS8535 65" Smart Ambilight 4K Ultra HD Android TV
Philips 65PUS8535 65" Smart Ambilight 4K Ultra HD Android TV
4K Ultra HD - vibrant HDR picture, smooth motion

P5 Perfect Picture Engine for enhanced visuals

Smart TV - catch-up, Freeview Play and 4K streaming

Ambilight Ambilight LED lighting - truly immersive entertainment

Dolby Vision & Dolby Atmos® - incredible visuals & sound
Nice tv for price.Quick delivery thanks
Love the ambilight, good picture, android tv is good. Ridiculously short plug lead, but swapped with my Panasonic tv. Overall very happy especially as was great price.
Very good tv, really worth the price
I always bought Samsung before. This tv was on sale so I gave it a try and i am very happy with it. Amazing tv, much better menu than Samsung. Nice picture and the Ambilight is amazing. No need lamp in the room at night :D
I'll start with the positives - This TV is crisp, clear and big. The ambilight is awesome and the keyboard on the back of the remote is really useful. Loads of connectivity and it plugged straight into my Samsung Soundbar and the HDMI Arc worked and I only have to use 1x remote. All the apps are there for streaming services etc. There are some critical downsides to this TV that are not very well advertised on the specification to this. FREESAT IS NOT AN OPTION! It has a sat input, and it will detect all the channels (around 700), but they are not in any order other than alphabetical, there is no capacity to create a favourites list as this has been removed, There is no EPG so realistically, you can't record off satellite TV. I have a feeling this is all down to FREEVIEW and the contract that Philips have with them, because all of this stuff is available if you plug into a normal antenna - It would have been really good to have this obviously stated on the specification list and i would have chosen a completely different brand. This being said, I plugged it into my German satellite and i was able to get a full EPG and functions, so it'd definitely a contractual thing with Philips not allowing certain functions in the UK. You are effectively buying a region locked 65" phone that has crippled capabilities because someone signed an agreement somewhere to be unfair towards satellite users in the UK. This is aimed squarely at people that stream their content a lot or use a skybox. I only hope that Philips are profiting well from my information! The speakers are awful - but this is true for most flat panel TVs.
Best television I've very brought, amazing picture quality and great sounds, I brought the 65inch version and it sits on my living room wall so beautifully ??. I highly recommend.
This TV has blown my mind, it's the ambilight that's done it. The picture pops in all the right places. Big budget movies and gaming are now watched and played like never before. The operating system is just perfect, intuitive and responsive. All you need. I got the 65" and I appreciate not everyone can get that size but measure up and get the biggest you can. You won't regret it Happy watching!!
Fantastic HDR Quality! Ignore the haters.......
Note sure why people have slated the HDR or DolbyVision quality on this set as I think it looks amazing! My old Philips set had a very dark and washed out HDR picture but this is not the case with this beast!! I was also very surprised that I liked the smart software and have even ditched my external UHD media player. I don't think I could go back to buying a TV that didn't have the Ambilight feature as this just adds so much immersion to the viewing experience. All in all, very happy with this purchase.
Great delivery, Tv is excellent, wish speakers were a bit louder seem to have to have it high to beable to hear it clearly jus5 a bit of a let down really.....