Customer Reviews — Melitta Look IV Therm Timer Filter Coffee Machine with Timer - Black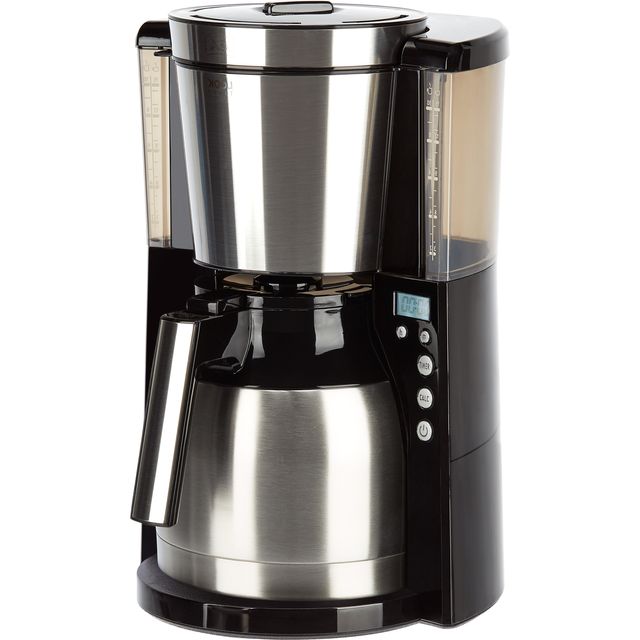 Customer Reviews — Melitta Look IV Therm Timer Filter Coffee Machine with Timer - Black
Melitta Look IV Therm Timer 6764395 Filter Coffee Machine with Timer - Black
Makes up to 10 cups at once

Adjustable strength of coffee from mild to strong

Comes with built-in timer

Specially designed to prevent coffee drips and splashes

Programme removes limescale to keep your machine clean
Easy to use - good price. Looks neat.
Hot coffee at last !! Years of lukewarm beverage from glass-jug coffee makers. Now enjoy delicious HOT coffee to put a zing in the start of each day. Magic !!
Looks good, makes coffee,
Looks great, makes coffee! Very happy with this machine, although would prefer reusable filters. Good price. Overall would definitely recommend.
Great filter coffee maker for the price
Great filter coffee machine, easy to set up and use, time useful for setting early or mid morning coffee brew, and the thermal jug keeps the coffee nice and hot for when you're ready or even a second mug.
Great product, keeps coffee nice and hot!
Very pleased with our purchase. Arrived next day, easy to set up, has an easy to use timer facility, keeps the coffee hot for hours after making and doesn't take up too much space on the work top.
A well made product that makes coffee. I suppose the lack of a heat pad saves electricity and stops the coffee becoming stewed. Very robust jug!
The best pour over machine you can buy in this price range. Coffee keeps hot for ages
Pros: Very easy to set up and use Keeps coffee hot for a few hours easily Cleaner and less messy than French press or a moka pot makes reasonably good coffee overnight timer is a handy feature Cons: Acceptable but not the best coffee you'll ever taste size on counter (possibly) difficult to pour out the entire amount of coffee from bottom of pot without spilling Overall this is very convenient way to make coffee for the morning, and the coffee itself is good enough.