Customer Reviews — Microsoft 365 Family Digital Download 6 Users - Annual Subscription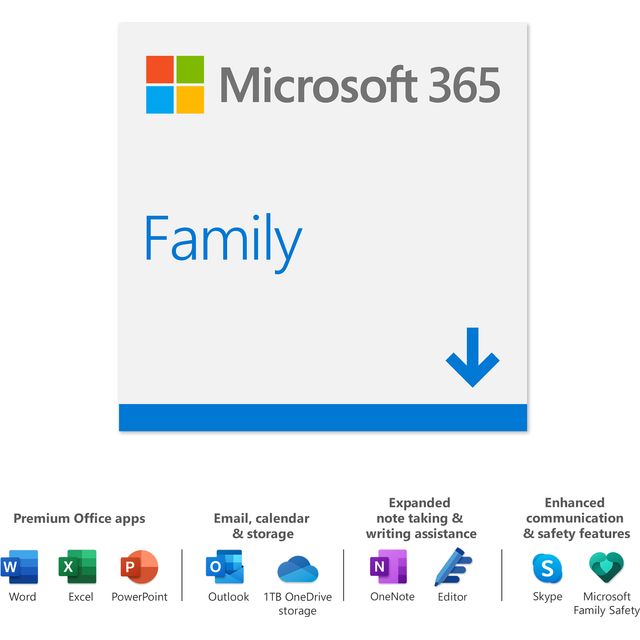 Customer Reviews — Microsoft 365 Family Digital Download 6 Users - Annual Subscription
Microsoft 365 Family Digital Download 6 Users - Annual Subscription
Install Microsoft 365 for 6 users across multiple devices

1TB of OneDrive cloud storage each for up to 6 users

Includes Word, Excel, PowerPoint, OneNote and Outlook

60 Skype minutes per month for up to 6 users

Always up to date with the latest applications and features
It was easy to download with no issues
Does what it says on the box.
Good product, excellent communication after sale. Prompt delivery. I would highly recommend buying from ao.com.
My granddaughter's laptop
The item I bought was a hp laptop for my granddaughter, it came within the timescale I was given and my granddaughter was very pleased with it. She needed a new one for her training to be a nurse and her old one was very slow. She liked the ease of use and understanding.
Excellent software for all home uses.
An excellent product that was easy to install and was operational in about 10 minutes.
Great product and does the job
We purchased the Lenovo Yoga for our 2 sons as we realised we needed a laptop for them during the lockdown so they could access their homeschooling. It is light, portable and doesn't take up too much space. The keyboard is comfortable too.
Office 365 for home schooling
Excellent product, great for the current home schooling climate.
Quick and easy to install. Able to use office as required.