Customer Reviews — Ring Indoor Cam Full HD 1080p - White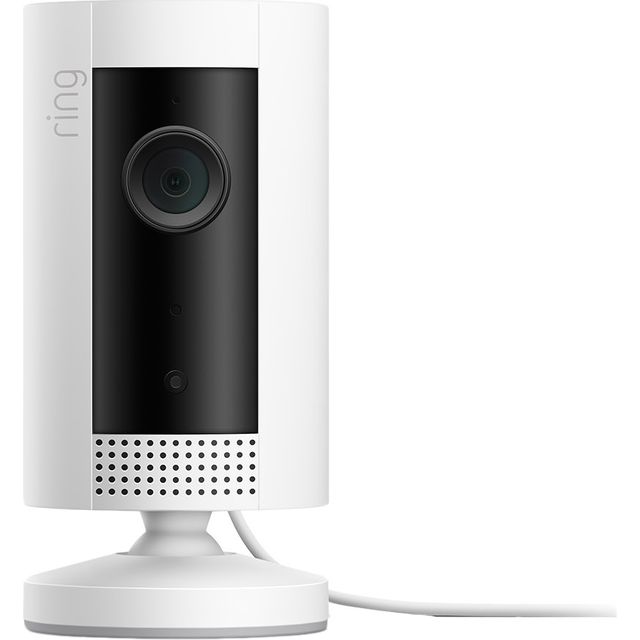 Customer Reviews — Ring Indoor Cam Full HD 1080p - White
Ring Indoor Cam Full HD 1080p - White
Smart security camera - control from a phone or laptop

Watch live anywhere and anytime with night vision

Full HD 1080p camera records in brilliant detail

Monitor the inside of your property

Two-way audio lets you talk & listen to people remotely
Good camera but not great sound
App and upselling lets it down
Yes, it was bought on price, but the app and integration side of things is pretty mediocre. The hardware is pretty elegant, and produces usable video when used indoors, including night-vision. The sound is as good as it needs to be, and the intercom feature, though it comes through very loud at the camera end, is useful. The only downsides to the hardware are the white finish, which makes it obtrusive in spite of its size, ditto the blue indicator LED, which can't be switched off (and must therefore be covered with tape), and the rather large, cheap transformer plug. However. If you need to make frequent connexions to view your camera, rather than just have it as a motion sensor or security camera, best to spend a little more: it seldom connects to a live feed on the first attempt. Restarting of the app is often required. If you don't plan on buying a Ring subscription to save the recorded motion videos, expect those connexion problems to get worse after the free trial expires, for reasons unknown. And you'll be constantly met with an orange banner whenever using the app asking you to buy that subscription. And, if you're ever expecting HomeKit integration and don't plan on using HomeBridge, there is, as of late 2019, now little hope of this feature being added. With two battery cameras and two plug-ins bought in one go, I'm now committed, but only with a wi-fi extender and a Raspberry Pi in the post. Only if you have a robust smart home system already, then, is probably Any Ring product worth spending so little on.
Good sound but night vision I wish was better
Small in size but does the job..I have 4 star because one failed after 5 weeks but replaced..
Really good picture quality and peace of mind. Only issue is the length of the wire as I feel it could be a bit longer
Excellent camera to add to our ring collection. We have the front door, indoor and rear garden covered by ring cameras and I am happy with the quality of these products which I have recommended to family and friends!
Had several of these good quality & many features but expensive with the subscription
First indoor cam we have owned so nothing to reference it to. It has to be up close to a widow to record what is outside. However the infra red light for night vision causes glare off the glass so it is more or less useless at night. If you have an angle or recording within rooms then it might be a good litte camera for you. Easy to set up and the app is quite good too.