Customer Reviews — Philips Hue Dimmer Switch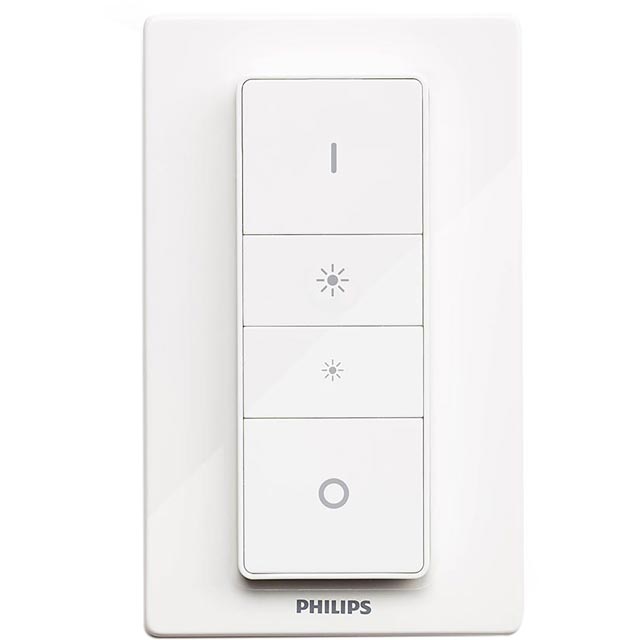 Customer Reviews — Philips Hue Dimmer Switch
Philips Hue Dimmer Switch
Dimmer switch wirelessly dims your smart lighting

Works with Google Home, Amazon Alexa and Apple HomeKit

Use the app to control all your devices on-the-go

Powered by an internal battery

2 year manufacturer warranty for peace of mind
Brilliant price, easy to install and great addition to our smart home.
Great switch, does what is needed. Shame it does come with a dock that sits over a light switch.
Stops the rest of the family messing up the lights
I'm really pleased with this product. I was getting sick of arguing with everyone as they refused to use the smart lights properly and kept switching them off at the wall. Work perfectly and we don't argue about them anymore.
Even though this designed really control one product you can access the switch via your Apple Home Kit button and program each button to do different functions amazing bit of kit...
A useful addition to your Phillips hue bulbs. Easy set up and will go anywhere in the room from where you want to control your bulbs
This product works as described and integrates well with the rest of my Hue system, giving a tangible way to turn the lights on and off, as well as dimming them up and down, and cycling through four preselected favourite lighting scenes.
Simple and effective, these switches are perfect at controlling hue lights. We've replaced all of our lights and switches with hue now. The only disadvantage is they are a different larger size from our UK light switches, so you need a 3rd party cover plate to make them fit.