Customer Reviews — Philips Hue White and Colour Ambiance B22 Starter Kit - A+ Rated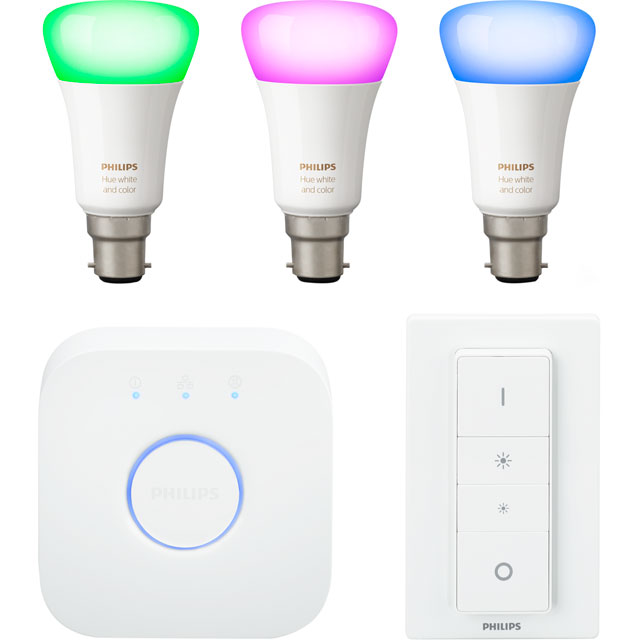 Customer Reviews — Philips Hue White and Colour Ambiance B22 Starter Kit - A+ Rated
Philips Hue White and Colour Ambiance B22 Starter Kit - A+ Rated
Smart light starter kit – control the lighting remotely

White and coloured bulb – choose from 16 million shades

Bayonet fitting with 25,000 hour lifespan

Schedule a timer to turn lights on automatically

Works with Google Home, Amazon Alexa and Apple HomeKit
Easy to install the kit and set up the Hue app on your phone. Really clear instructions included. Have since bought more bulbs to do the whole house! Have set up the lights to switch on in the morning with my alarm and to dim when it's time for bed. Good quality product.
Solid product - little on the pricey side
Good product, integrates well with Alexa. They are expensive in comparison to others on the market but for my first venture into smart bulbs I played it safe with a reputable brand. There is a wide range of colours however the bulbs lack a bit in brightness and saturation in any colour other than the white spectrum. In the white spectrum the are brilliantly bright and can really help set the tone in an environment. Overall I'm happy with the purchase and I would recommend as a first step into smart bulbs.
Great product works seamlessly.
These were easy to set up (took less than 2 mins) and once set up worked easily with all my devices. Great range of colour and integration with TV and streaming both video and music etc.
Great gadget, great service!
Great product, easy to set up and works a treat! Great service from AO as always!
Fantastic product, does exactly what it says it will. Easy to install and use via the app and now even easier with Google's new 'sync my lights' command.
Amazing starter kit and fun gadget once you get used to what you need to link it up with wether its with Alexa or just using the app on your phone. I gave one the bulbs to my sister so she can use it for when shes gaming, it adds a nice touch if you want it bright or calm theme, unfortunately if I want to mess with her light settkng during a horror game she can do the sameback to me which makes it laughable
Worked well out of the box. Had to use "help" to understand room, zones bulbs and the difference between these and how to move them around the house