Customer Reviews — Amica Fully Integrated Standard Dishwasher - Silver with Fixed Door Fixing Kit - E Rated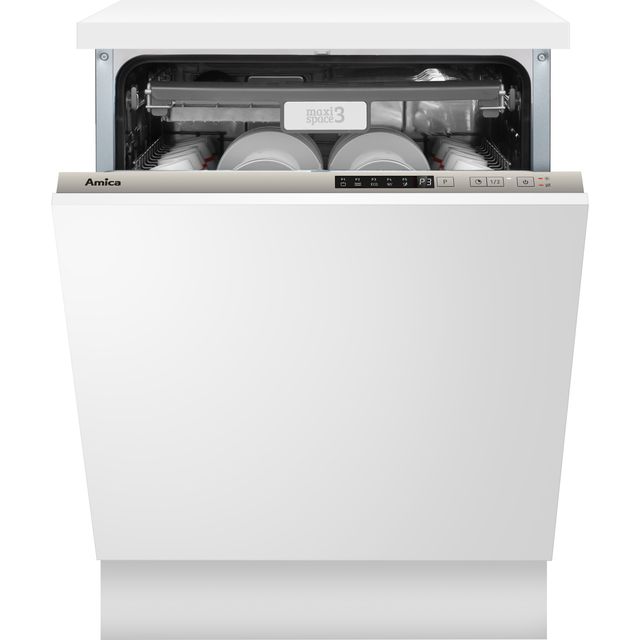 Customer Reviews — Amica Fully Integrated Standard Dishwasher - Silver with Fixed Door Fixing Kit - E Rated
Amica ADI650 Fully Integrated Standard Dishwasher - Silver Control Panel with Fixed Door Fixing Kit - E Rated
14 place settings - great for medium-sized households

30 minute quick wash - great if you're in a hurry

Delay the cycle to start for up to 24 hours

Easy-to-use push button controls

Dimensions (cm) - H81.5 x W59.8 x D57
Dishwasher works well. Dishes come out sparkly clean. Happy to have a functional dishwasher again.
Value for money and cleans well
At first i had to google Amica as I've never heard of them. They are a polish appliance company so I took a chance with this As it had alot of extra features for a fraction of the cost. A well made product for a good price. Installation intructions where very comic type format but with these sort of things common sense and basic diy skills are needed. As for the dishwasher its simple enough to use with flexible choice of programs depending on the load. 3rd row cutlery tray also useful for them small items. Ajustable second rack for more space for bulky items . Cleans very well on the normal program. Overall I would recommend this product simply because of the added value you get for premium features that you would have to pay extra for other known brand. Packaging of the product was good .AO delivery was on time with updates throughout the day.
I can only review on experience to date, obviously, not on product reliability etc. Firstly ,it is an easily fitted integrated appliance with some nice thoughtful ideas with regards door fitting, door spring tension etc. Nice internal layout with extra room available in the 2 main racks thanks to the 3rd shallow top rack, eliminating the need for a cutlery basket. It's doing a good washing job ,with a quick cycle which has just the drawback of no drying period sadly .........Just one thing worthy of note to some folk ; the depth of the appliance is not ( as currently stated ) 57cm but is in fact 54.5cm . The incorrectly stated depth almost put me off buying it but after checking on the manufacturer's website ,where it's given as 55cm ,I took the risk and happily all was well. ...So far so good , would recommend.
Good value but not perfect
This Amica dishwasher was to replace a SMEG that had lasted 8 years. Good points - value for money, cleans well and dries pretty well too. AO Installation team were excellent. So why not 5 stars - I was not too impressed with the fiddly cutlery tray, it just seemed to take too long to sort - luckily I kept the basket from the old dishwasher. Most irritating is the bottom tray does not slide out smoothly; it's like the wheels are not quite in the right place or the door is poorly designed. As you slide it out it "clunks" down between the body and the door. rattling all the dishes.
Very good results but rack fit could be better
Excellent cleaning of all crockery, cutlery & pots. Racks could fit a bit better when sliding back into the dishwasher. Cutlery rack at the top leaves more room on the 2 main racks, but means that tall glasses are too high for the upper rack.
Very disappointed, leaves the pots wet, also the template for the fixing kit does not match.
I'd never really heard of Amica, but it seemed good value for the specification, and offered half price installation. So far so good, it cleans well, and is quieter than the old one.