Customer Reviews — Beko American Fridge Freezer - Black - A+ Rated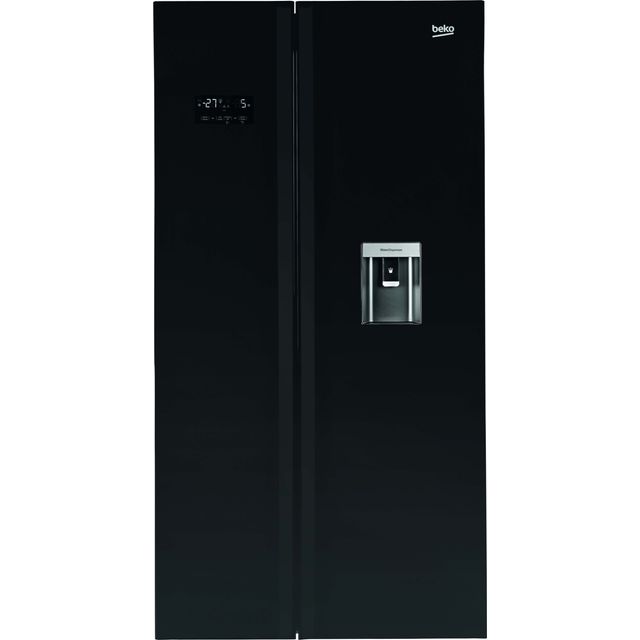 Customer Reviews — Beko American Fridge Freezer - Black - A+ Rated
Beko ASDL251B American Fridge Freezer - Black - A+ Rated
554 litre capacity - holds 30 bags of food shopping

Water dispenser - no plumbing required

Multiple cooling vents for lasting freshness

Filters circulate air to stop odours & bacteria forming

Standard width - 91cm
Beko American style fridge freezer.
Great looking & just what we hoped it would be. Our third Beko product.
I love this freezer can get lots of shopping in
Great service will recommend your product
Great product but struggled to get it through the door. Be careful when you order it
Some cheap bits but would buy again.
This is the second and upgraded version of this fridge freezer after our first one died after 8 years! We went for the same brand again after having no trouble with the first Beko, just make sure you measure your front door and kitchen door to get this beast in your kitchen, it's a big one! ('we had to remove the front door handle and the kitchen door!) We found the shelves deeper inside than our previous model which was great, decent size drawers and a bottle rack which is more sturdy than our last one, some points regarding build quality inside not as good to be honest, there's an egg keeper/compartment on the top rung inside the fridge door that isn't interchangeable with the rest of the pockets in the door as we got the model with the drinks dispenser, the quality of this egg keeper is poor, it's very clunky and flimsy and feels like it'll fall to bits plus you need two hands to open it one holding the door, as I said it's clunky, bit disappointing, also the drawers on the fridge freezer are also clunky and sometimes a bit stiff or fiddly to pull out, don't get me started on the ice maker, it's bigger in size than the last one we had (which was a good design), takes far too much room up in the freezer, doesn't make as many ice cubes as our previous freezer did and I defy anyone to fill it and replace it without spilling water everywhere! We're going to take it out as it's removable, it's rubbish! All in all though, loads of room and I like the additional door pockets in the freezer, easy to operate with the temperatures etc., cheap but cheerful, we would buy again!
Product is lovely. Spacious and has ice tray also.
This is not what I expected it is smaller inside than the old unit it replaced although its outer dimensions are slightly larger I'm not happy with it and it will be up for sale and be replaced after this festive period.
Fab American fridge freezer
This fridge freezer is brilliant, good sized and looks fresh and stylish.