Customer Reviews — Shark Anti-Hair Wrap with Powered Lift Away AZ950UK Upright Vacuum Cleaner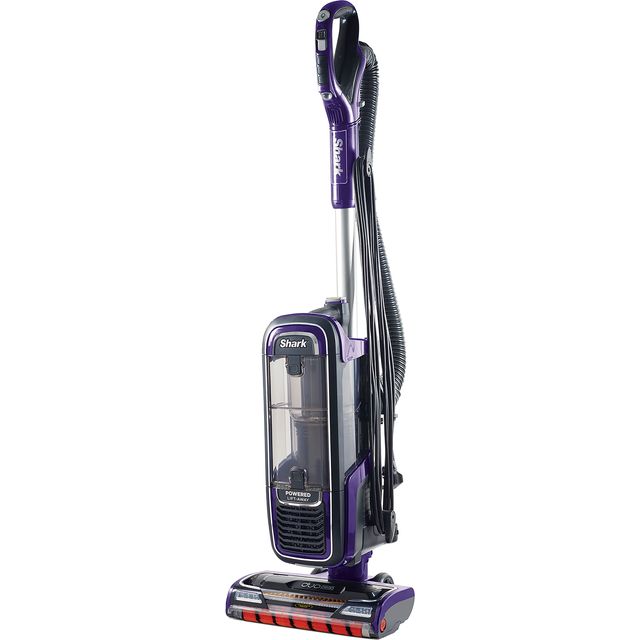 Customer Reviews — Shark Anti-Hair Wrap with Powered Lift Away AZ950UK Upright Vacuum Cleaner
Shark Anti-Hair Wrap with Powered Lift Away AZ950UK Upright Vacuum Cleaner
Bagless cleaning - easy to empty and no bags to buy

Dusting brush is ideal for cleaning delicate surfaces

Comb untangles & removes hair from the brush's bristles

Clever floorhead captures all types of dirt

Special tech traps 99.9% of allergens inside the vacuum
Excellent vacuum cleaner. Very good suction Works well on pet hair
This vacuum cleaner is so quiet and leaves the carpet really clean.Perfect.
I am absolutely delighted with my new Shark Anti-wrap upright vacuum cleaner - and cleaner is a good description for it because since using it my carpets look brand new and the pile has been restored and they feel lovely to walk on again. My neighbours must think I've gone a bit crazy because I can't resist having another whizz round between the ads on the TV so I can awe in fasination at what it has managed to collect yet again even though I have always hoovered regularly with a cylinder vacuum before I purchased the Shark. I feel very confident in recommending the Shark Anti-Wrap upright vacuum cleaner - I love it.
Lightweight, powerful, efficient - with this vacuum cleaner even I might start to enjoy housework! Well, I might, just a bit!
2nd Shark purchase for the soon to leave home son
does just what it says it will do !
Makes housework enjoyable, best hoover I've ever bought. Going to be ordering the car attachments too and the floor steamer looks a great buy too. If your not sure weather to get another Dyson or try one of these, you won't regret it just go for it. I will be buying these from now on . It's even got my teenage girls hoovering at last!
This Shark hover is brilliant. It picks up & makes your carpets look like new again. I live on a farm & all sorts gets brought in & I have cats indoors. I wish I had had this machine years ago. It will pick up all most everything. Would highly recommend any of the their model's.
What an amazing piece of technology, very robust well engineered vacuum Extremely powerful suction across 3 surface types Very adept at getting between the furniture and with the detachable hose for this awkward places nothing escapes I really love the anti hair wrap, with two very furry family members it's just what I needed