Customer Reviews — Shark Anti-Hair Wrap with Powered Lift Away AZ950UK Upright Vacuum Cleaner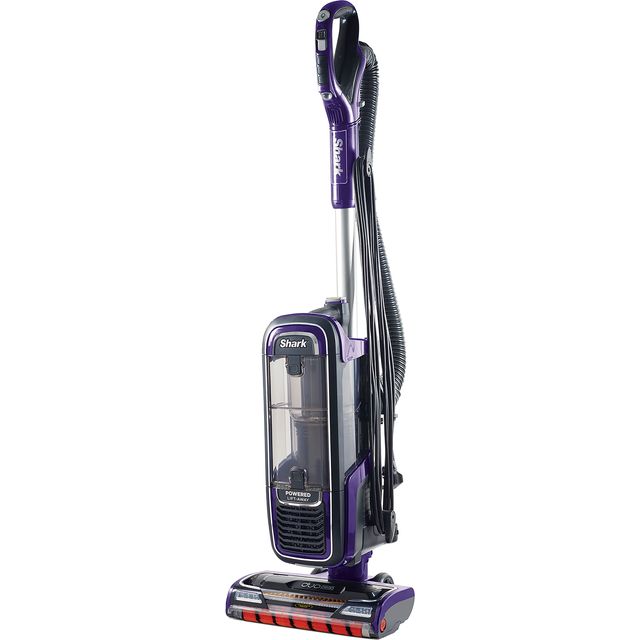 Customer Reviews — Shark Anti-Hair Wrap with Powered Lift Away AZ950UK Upright Vacuum Cleaner
Shark Anti-Hair Wrap with Powered Lift Away AZ950UK Upright Vacuum Cleaner
Bagless cleaning - easy to empty and no bags to buy

Dusting brush is ideal for cleaning delicate surfaces

Comb untangles & removes hair from the brush's bristles

Clever floorhead captures all types of dirt

Special tech traps 99.9% of allergens inside the vacuum
Takes a bit of getting used to - but certainly sucks well
Does what it says on the tin.
Good machine, does the job really well but it is a little heavy.
Great power performance vacuum
Bought this after our Bosch vacuum gave up. After thoroughly researching the Shark line of vacuums we decided to give it a try. Pros: -Powerful suction; -Great hair collection without tangling the brush (we have pets so a big plus); -Great air filtration - full seal air filtration that doesn't leave any unpleasant odour which is rare for the price range; -Easily detachable parts (power lift is a key feature for this vacuum); -Free car care kit. Cons: -Sluggish - we did buy the Shark vacuum for sheer performance and knowing that it is a beefy vacuum (it's not lightweight) however getting into tighter spots can be an issue. ; -No auto cable reel - would have been a great addition as that's what we had on all of our previous vacuums. ; -The hose is rather short for use in power lift mode - you won't be able to reach far when using this in the power lift mode and setting the base on the floor, which leads to moving the base a lot even for smaller sections of the room. Overall it is a performance beast especially for wide open spaces, just expect a lot of nozzle detaching for smaller nooks and crannies as the nozzle is massive. Just hoping that it will withstand the test of time.
Excellent pick up, suction. Easy to put together but very heavy and difficult to guide.
Fantastic Vacuum better than any cordless
Spent a while looking for a decent vaccum, finally settled on a Shark my decision was based from online reviews and friends and family that have recommended. So far I have been very impressed, its easy to operate, not too heavy and has fantastic suction. The anti-hair wrap brush really does seem to work and its also fairly quiet in operation. If im honest the tool attachment holders are not the best as the smallest attachement does seem to fall out far too often whilst the vacuum is in use but all in all very good. 4 stars because nothings perfect. AO was also fantastic from order through to delivery!.
Item delivered quickly, easily put together. Not very sturdy on it's 'feet" but great suction, getting into all of the nooks and crannies
So impressed with this vacuum cleaner, the anti-hair wrap is brilliant. Such a well built product and this does make it quite heavy which is a slight downside, however I think the fact it picks up so well and really brings carpets to life makes up for this. The suction is amazing.
Was a bit heavy to start but have got the hang of it now very good on pet hair