Customer Reviews — Shark Anti-Hair Wrap with Powered Lift Away AZ950UK Upright Vacuum Cleaner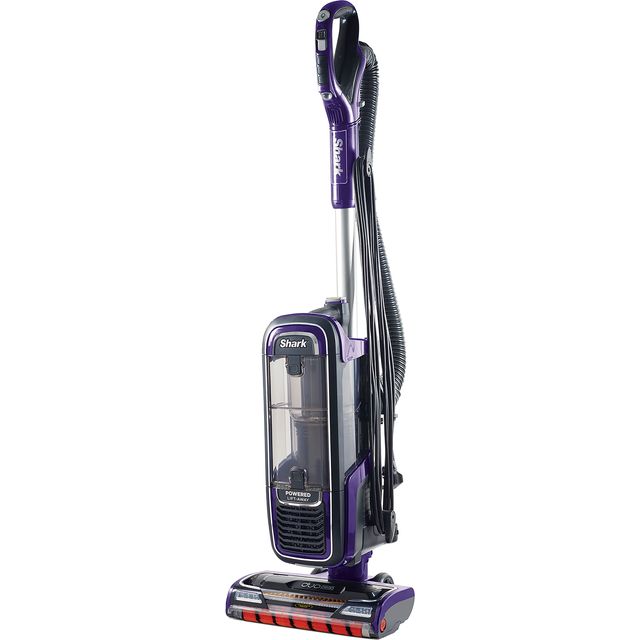 Customer Reviews — Shark Anti-Hair Wrap with Powered Lift Away AZ950UK Upright Vacuum Cleaner
Shark Anti-Hair Wrap with Powered Lift Away AZ950UK Upright Vacuum Cleaner
Bagless cleaning - easy to empty and no bags to buy

Dusting brush is ideal for cleaning delicate surfaces

Comb untangles & removes hair from the brush's bristles

Clever floorhead captures all types of dirt

Special tech traps 99.9% of allergens inside the vacuum
Brilliant vacuum just a tad bit heavy when manoeuvring.
after being a Dyson user for many many years, I looked elsewhere when my current DC41 started showing its age - mainly because Dyson are giving up on uprights - and IMO cordless are nowhere near an upright replacement yet. I write this as both a user and an engineer. After my first full house clean - I have a good idea of the good and bad of this vacuum. The good - where it counts. The actual cleaning job is really good. It picks up better than my DC41 (though not tried the latest animal). The modular system - allowing for standard upright, short and long wands, being able to use the full floor unit with a short handle etc etc - means that any job has the ideal setup to carry it out. Its quiet (for a powerful upright - a lot quite than my Dyson) despite some reviews. Its also lighter (just) but easier to push than my Dyson (again against other reviews - but it really depends what you compare it to). The footprint allows easier storage than the Dyson as well (though it also leads to a bad point). getting under items is really easy (much better than the Dyson) as you can lie it almost flat. The OK. Its OK to manoeuvre around - but not as easy as a Dyson Ball. The anti hair wrap doesnt really work that well. Its better than my Dyson but still needs my daughters long hair manually removed after a big clean. The bad. Two major points here. Firstly stability while using the wand (while NOT holding the carry part). Its really bad. The flexi hose is quite short and its very stiff (this may free with time) and once the want is removed, all the weight is in the Lift off part. This means that is left on the wheels, it tips over VERY easily..... I got REALLY frustrated with it. You almost have to hold the lift off to use the want - and in high places thats not easy. Really there should be some weight in the floor part (not the lift off) and some anti tip design. Its just not thought out from a users perspective. The second - the ancillaries are an after thought. Its not that they dont work - they do BUT there just a basic "push" fit - both on the clip points on the vacuum AND in the nozzles. they fall off/fall out when in use and not in use - they dont always sit straight either. There SHOULD be a clip in system to positively secure the ancils for use and for storage. While not a total disaster - a top of the line cleaner should have bottom of the line attachment systems. Really quite disappointing with Shark over this. Overall a decent vacuum. On a pure "functionality" front its probably the best Ive used. BUT its let down by one basic engineering design (the top heavy/falling over bit when using a wand) leading to frustration and one "afterthought" for the ancillary attachments which is below par for its position in the range. The latter is a very easy fix, the former might take a little more thought - but wouldnt be that hard to achieve - and would make for a market leading product.
Although slightly heavy, this is a powerful vacuum cleaner with great suction. The anti-hair wrap feature is brilliant.
This is amazing, picks everything up really easily. A little heavy but still easy to love around and the wire should be a little longer. But every else is really good
Having only used Dyson for many years was time to try a different brand The hair trapper and lift off did it for me Now a convert it's great can use on all types of floor never looked so good or smelt so fresh
Vacuum is great. Easy to put together. A little heavy but easy to manoeuvre around rooms. The lift away makes cleaning stairs easier than using a regular upright. Cleans carpets throughly. Leaves carpets feeling fresh and feeling fluffed up.
Could not believe how much dirt and grime was removed from what I thought was a nice clean carpet Nice strong suction .Only bit of gripe is a couple of extra metres on the cord would have been adantageous but that's it a well priced vaccuum cleaner
Amazing hoover. I hoover daily but still didn't realise how dirty my carpets were. My only issue with this is the hose isn't that long and the power button is on the handle, if the hose comes out then the power stops.