Customer Reviews — Amazon Kindle Paperwhite 6" 32GB eReader - Black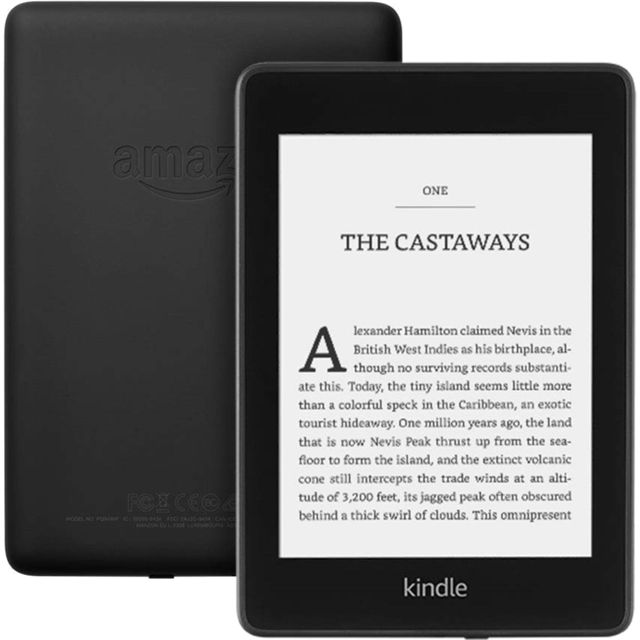 Customer Reviews — Amazon Kindle Paperwhite 6" 32GB eReader - Black
Amazon Kindle Paperwhite 6" 32GB eReader - Black
32GB storage - holds up to 24000 books

Up to 6 weeks of battery life from a single charge

6 inch E Ink screen - for clear and easy reading

Water resistant - protected from splashes of water

Access your Amazon content anywhere via cloud storage
Excellent product battery lasts ages
Getting a book is now so easy
This is an amazing product, one that I had always resisted buying as I enjoy handling a 'real' book, but now, having used the Kindle for just a week - I am hooked, easy to use , easy to flip back a few pages to check something out, it is great...so far there are no negatives !
After my 1st ever Kindle gave up the ghost after 10 years od service, I could not thing of having anything else other than another kindle. This new one is even better, can not praise it enough. 5 Stars all day long.
My kindle arrived earlier then date stated, well impressed. This is my 3rd kindle and by far the best one.
The paperwhite is great for reading in all light conditions, dark or sunlight. Books can be downloaded quickly and it was easy to set up my account. Light and nice to hold.
Great device, good service
Kindle Paperwhite is great. The adjustable lighting of the screen, as well as the font used, means it can be read in any situation from bright sunlight to pitch black. Lightweight and comfortable to hold, with capacity to store thousands of books. Ordered amidst the Coronavirus pandemic, Kindle delivered quickly, with appropriate social distancing measure adhered to. Good communication, and as an NHS worker, my delivery charge was refunded which was a nice touch by AO.
I chose the Kindle Paperwhite model, due to having vision issues and not being able to read on my kindle app on my phone or iPad outside. This solves the problem, I can easily read in bright sunshine or TV he shade. It is so light to hold, easy to set up and great to use outdoors. Loads of storage too and it is easy to browse the library and Kindle store to find more books to read. I would highly recommend.