Customer Reviews — Amazon Fire HD 10.1" 32GB Wifi Tablet with Alexa [2019] - Plum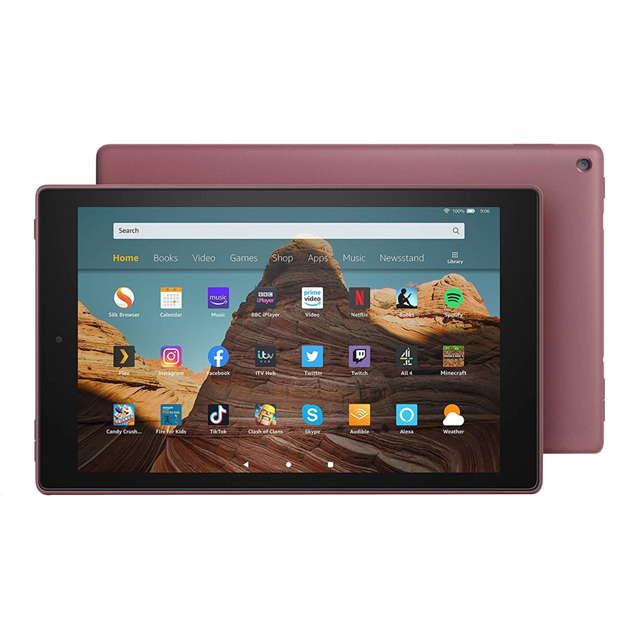 Customer Reviews — Amazon Fire HD 10.1" 32GB Wifi Tablet with Alexa [2019] - Plum
Amazon Fire HD 10.1" 32GB Wifi Tablet with Alexa [2019] - Plum
Fire OS installed - enjoy loads of Amazon apps

Full HD screen - for a stunning, clear picture

32GB of storage with up to 11 hours of battery life

Rear camera - 2 megapixel for standard quality photos

Amazon Alexa Assistant - ask questions & set reminders
seems ok up to now but never used much as it is a birthday present
Great product,fantastic price,incredible service.
Found out belatedly that my mum wanted either a tablet or kindle for her birthday. So..I knew the Fire HD 10 would serve as both. So had a look online and by far the best deal available was from a.o Ordered it on the Tuesday,was told before I ordered it'd arrive by Friday. That was fine,phoned my mum n told her the gift would be a day after her birthday. Got up on the Wednesday to an email from a.o telling me the product would be with me that afternoon. So got it at said time,2 full days before expected and was able to download the kindle app for my mum,and Facebook etc for her so when we got to hers for her birthday on the Thursday we had her gift and it was all working and ready to go for her because it'd gotten delivered unbelievably quickly. Next time I'm looking for an electronic product or appliance I'll definitely be looking at a.o before I try anywhere else. Great product,fantastic price and truly incredible service.
The fire hd 10 is a great tablet for the price. The display is full hd and you can add a memory card to increase the storage amount. As well as the Amazon apps you can quite easily download the google play store turning the tablet into a fully loaded android tablet
My old one broke down so I had to order one kissed it so much I am so pleased when it came it came very fast and the person on the phone was very helpful and there to help me and I am very thankful for that
Great product and price. Delivered promptly. Would and have recomended to others.
I needed a tablet so I could FaceTime my grandchildren in these difficult times. It is the perfect size and was so easy to set up and use. The price was also a factor, very good value.
I am still learning how to use it but getting there. Once we're out of isolation I'm sure my grandchildren will help me. I've been playing music on it and a couple of games so not doing to bad for a greatgranny. Could supply a better instruction booklet with it.
Product does everything that we expected of it easy to understand and find your way around having had one previously.