Customer Reviews — Amazon Echo Show 5 with Alexa - 5.5" Screen - Sandstone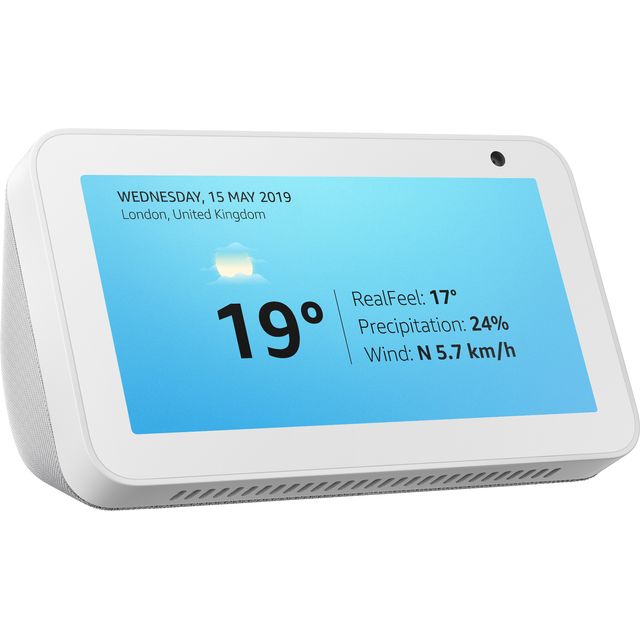 Customer Reviews — Amazon Echo Show 5 with Alexa - 5.5" Screen - Sandstone
Amazon Echo Show 5 with Alexa - 5.5" Screen - Sandstone
Smart speaker with an interactive touchscreen

Ask questions, set diary reminders or get news updates

Built-in camera for video chatting with friends

Play music from popular streaming services

Control other smart devices in your home
As described, came when planned and the product is. Perfect for our need
Had the echo dot and upgraded to this, useful as links easily to ring doorbell and the kids like the music lyrics on screen, great value for money.
Good quality smart looking product
Even Nana can work this beauty
Echo Show 5 Great looking piece - l can't believe how much it can do. Easy to set up even for a technophobe like me. Would make a fantastic gift.
Fantastic great bit of kit
Looks like a great product. Everything in one. Bought small 5.5" screen for our home and the larger screen model as a gift for the in-laws. Plan to use ours more for alarm clock, sunlight rise and music for the room. Bought the larger one for grandparents house to help them with video calls, hoping they will find it easier to use than their current mobile phone to see the kids when calling.
Great product, easy to set up and works well, dims itself when it senses its dark.Many uses, can be used as a clock (alarm also) with different themes.Can turn lights on and off through voice commands if you buy smart bulbs or even turn heating on and off through Alexa if you have a Hive themostat.The 5 inch version is quite small so doesn't take up a lot of room. You can also listen to music through youtube, again using alexa. Unlike the echo dot, settings can be changed directly from it's screen.
This little thing has become my best friend. Easy to use and the screen is perfect.