Customer Reviews — Bosch Serie 4 Athlet ProAnimal BCH6PETGB Cordless Vacuum Cleaner with Pet Hair Removal and up to 60 Minutes Run Time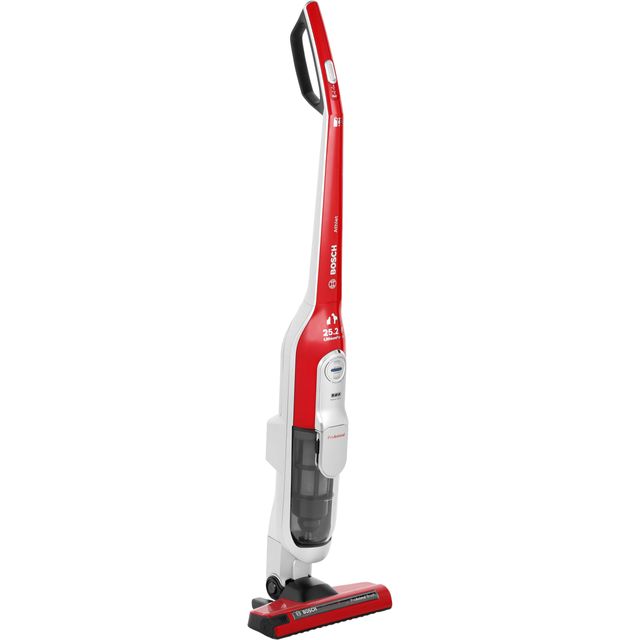 Customer Reviews — Bosch Serie 4 Athlet ProAnimal BCH6PETGB Cordless Vacuum Cleaner with Pet Hair Removal and up to 60 Minutes Run Time
Bosch Serie 4 Athlet ProAnimal BCH6PETGB Cordless Vacuum Cleaner with Pet Hair Removal and up to 60 Minutes Run Time
Up to 60 minutes run time from a single charge

Clever sensor monitors performance for better cleaning

Great for removing pet hair from carpets and upholstery

Easily remove brush roll to clean out hairs and fluff

Powerful rechargeable battery for extra-long run time
Very pleased with the product nice and easy to use suction great
Well-made, fairly easy to assemble, holds charge & first 2 power settings enough for routine use, conversion to hand held straightforward but ergonomics take some getting used to; overall very pleased with this vac, so far.
Amazingly strong suction in boost mode and easy to use
Having already had one I knew it was a fabulous floor cleaner Easy to use Efficient and lightweight All in all a great appliance
Very impressive vacuum cleaner.
Only had this vacuum cleaner a couple of weeks, but already proving to be an excellent purchase. Being a Bosch appliance, it's very good quality and lightweight and battery runtime seems to be more than adequate. So far so good but would definitely recommend.
Absolutely super upright vacuum cleaner, we needed a small vacuum and this fitted all our needs for a large 1 bedroom apartment, it has 3 suction settings: we normally use it on the first setting and occasionally use it on the second for a bit of a boost, when we tried the 3rd setting we couldn't get it off the carpet the suction was that strong, not that we need to that much, it is without a doubt the most powerful battery (built in) upright vacuum we have had, and ! we have had most of the top brands in the past, (in houses) it was a replacement for our small upright (demised) Vax which is no longer available, ours came with spare brush etc, I can't comment on the ease of using the pipe attachment as we have no need to use it, although it seems fairly simple, it is easy to clean/empty, lightweight, and the front brush comes out easily, also the style is excellent, AO ! we're extremely efficient throughout, we ordered by phone (really efficient) ordered on Saturday and it was delivered on Sunday !! Only one downside, when in the upright position it doesn't clip into place just seems to stay upright on its own weight slightly leaning forward, so there is a chance if knocked, it would fall over, think it's a design fault, there are mouldings that pertude to keep it upright but could have been a well thought out, Overall this is a great vacuum, and is highly recommended, excellent value, Oh !! and its a BOSCH,
Bosch BCH6PETGB vac Review
After changing from a heavy corder vac it was surprisingly light, the steering took a little getting used to but overall I am very pleased with it. Margaret
The Bosch vac has been great since I bought it. Easy to empty the dust container and picks up most ly with one pass