Customer Reviews — Hotpoint Integrated 9Kg / 6Kg Washer Dryer - White - D Rated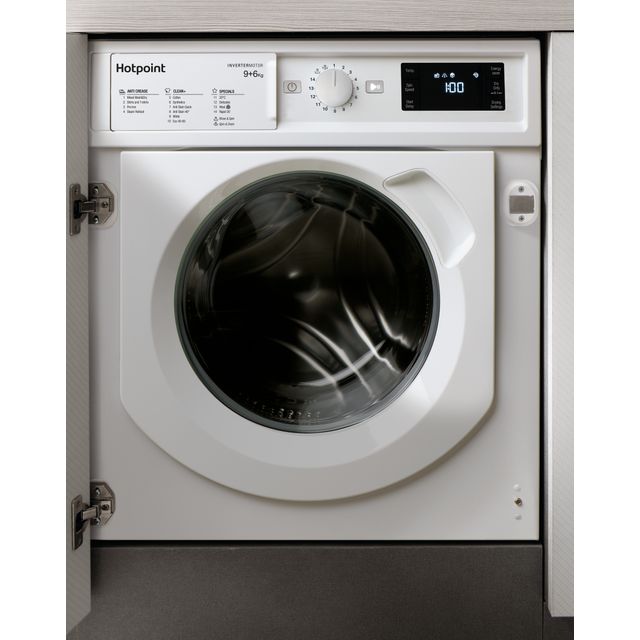 Customer Reviews — Hotpoint Integrated 9Kg / 6Kg Washer Dryer - White - D Rated
Hotpoint BIWDHG961484UK Integrated 9Kg / 6Kg Washer Dryer with 1400 rpm - White - D Rated
9kg wash, 6kg dry - great for medium-sized households

Anti Stain Quick Wash programme - removes stains fast

Special programme helps you save water and energy

Gentle programme for delicate woollen items

Dimensions (cm) - H82 x W59.5 x D54.5
Only had it for 15 minutes and on the first load the door seal was leaking
Large capacity, very quiet, however I experienced a few issues
I've waited a few weeks after purchasing this washer dryer before writing this review to give myself ample time to use it and become accustomed to it's features. I have mixed feelings about the machine and I am hesitant to wholeheartedly recommend it. I opted specifically for this model over others available as it is one of the largest capacity washer dryers, offering a 9kg wash load and 6kg dry load. The drum size feels much larger than our old 8+5kg washer dryer, and it has performed well with large loads. The load size certainly does not disappoint, however I have found that this results in wash and dry times that are much longer than my previous machine (drying in particular is much slower). When there is a lot of washing to do we are finding that we are only able to completely 2 or 3 loads in a day. The drying feature is particularly frustrating, as it should be sensing when the washing is dry. In my experience the dryer continues drying for far too long. The timer counts down to 1 minute remaining, where it gets stuck for a while, before it adds on another 30 minutes drying time. This is despite the washing feeling adequately dry to the touch. I'm therefore unwilling to trust leaving washing drying unattended as who knows how long it may decide to continue drying for, consuming electricity and potentially damaging clothes. I have experienced similar issues with the timing of washes, where the remaining duration will suddenly change mid-way through a wash. Some wash/dry programmes allow the cycles to be paused, so that you can add forgotten items or check how dry the washing is, however others don't. There doesn't seem to be any logic to this. This is particularly annoying on the drying cycle, as if it doesn't allow you to pause then you need to turn the machine off and then restart the dry cycle. I also experienced issues with the machine weeping small amounts of water from the bottom of the door, which was barely noticeable at first however it quickly became appararent when the kitchen plinth began to warp with the water damage. I think this is an issue with the machine, and not related to the installation. On the plus side, installation was easy and the legs are very adjustable which made it easy to install into my ackward kitchen whereby the front feet are installed on laminate flooring, but the rear legs need to be extended further as they are lower on the concrete subfloor. The menu options on the machine are easy to use, however the descriptions of the different programmes in manual are not great, so it is difficult to know which programme to use. Some details regarding the different programmes (e.g. water/electricity consumption) are not present or variable, so it is difficult to know whether you are selecting the most economical option. A lot of the programmes also restrict the maximum load of the machine, so you are unable to make the most of the large 9kg capacity. I believe this is a new Hotpoint model. When I purchased reviews were limited, I took a risk in purchasing it. Overall I'm not entirely satisfied, and upon reflection I would probably opt for different manufacturer. In summary, plus points: + This is probably the largest capacity washer dryer on the market + Washing has always come out clean and fresh + Very quiet machine, even at the highest spin speed Negative points - Water weeping from door issue - Long wash/dry times - Uncertainty over duration of wash/dry cycles
Takes so long for a standard wash and dry!
Program instruction could be clearer
Good so far and really quiet which is a bonus
Great product might not be the fastest on the market but get everything clean. Only complaint would be the instructions manual could give more instructions specially for drying only cycles.
Great washer dryer for the price
Great washer dryer for the price. Delivered quickly and installed by professionals. Knocked a star off as it takes a long time to dry heavier items such as towels and received a pushy sales call regarding insurance. Pleased with purchase.