Customer Reviews — NEFF N50 C1APG64N0B Built In Combination Microwave Oven - Stainless Steel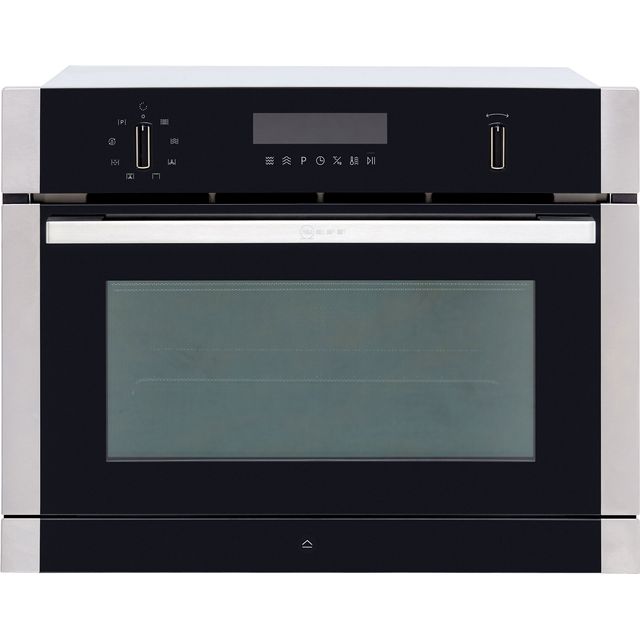 Customer Reviews — NEFF N50 C1APG64N0B Built In Combination Microwave Oven - Stainless Steel
NEFF N50 C1APG64N0B Built In Combination Microwave Oven - Stainless Steel
36 litre capacity - great for medium-sized households

1000 Watt power output – for even cooking in no time

Unique fan system cooks food evenly

Add bursts of steam to your roasting and baking

Dimensions (cm) H45.5 x W59.4 x D54.5 - Learn more
It's a brilliant microwave oven with steam love it
Broke down after less than three months. Also the selector switch fell off after a few weeks! Has been repaired now under warranty. The picture on the website could be better as it shows a metal rack inside the oven. It can be used inside but you need to use the glass tray supplied most of the time. Also to use the steam function the glass tray supplied has to be place on the second highest level inside the oven which means it's pretty useless for baking. Since it's advertised as a steam baking oven this is very misleading,
Not as good as the model it replaced
We needed to replace our existing built in model as it has reached the end of its life. We were very pleased with it & was disappointed that it had been discontinued. However, this is the direct replacement & I had high hopes. Oh my beating heart was so disappointed. For some reason, it does not roast anything anywhere near as good & crispy as the old one. The timer button gets stuck in & we've only had it 2 weeks, I now have to use my fingernail to pull it out rather than just press it. Finally, we purchased prior to the Civid lockdown & paid for installation, it was soon after apparent that that would not be possible, so we took delivery from our front door. What I did not expect when it was unpacked was that it would come without a plug!
Nice combination oven but
Purchased this at the same time as the matching oven unit. But get the feeling that teh NEFF designer department that designed this did it without talking to the oven department. The old combination it replaced had a 13amp plug but this one has been up powered and now needs hardwiring which if they had used the same technology as the oven i.e hardwired cable with plug to connect to the oven it would be great. But they didn't it came with a plan wire hanging out the back. As for operation its works fine and the controls are reasonably simple and intuitive
The microwave looks fantastic and the price with AO was competetive. All round very happy customer.
It's s fabulous looking item and well built. It's only been fitted a few days ,so as yet hardly used but it's very simple to use and so far great results as always with Neff
Great microwave and easy to use not used the steam function yet but will do soon
This product is tbe best micro combi I have owned tbe stram featute takes it to the next level.