Customer Reviews — Asus 14" Intel® Celeron® 64GB eMMC 4GB RAM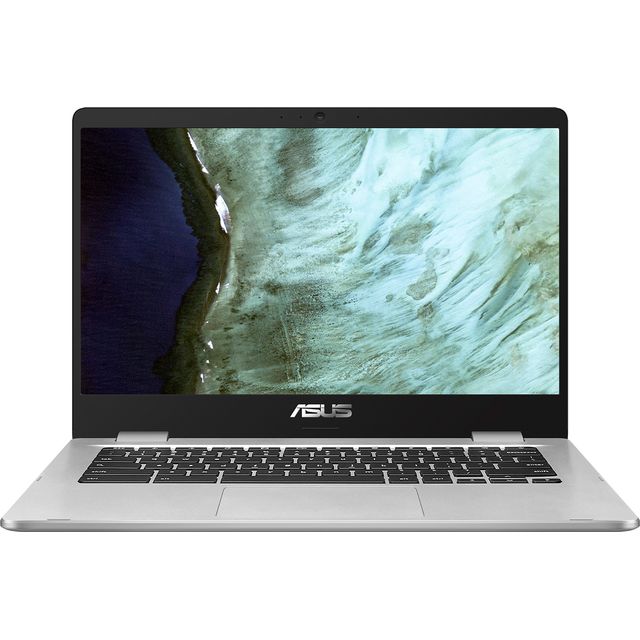 Customer Reviews — Asus 14" Intel® Celeron® 64GB eMMC 4GB RAM
Asus C423NA 14" Chromebook Laptop - Silver
Easy-to-use Google powered laptop with quick start-up

Built-in antivirus and access to millions of apps

Lightweight with a 10 hour battery life

Get one year of free online storage with Google One

Intel® Celeron® processor with 4GB of RAM
Great laptop, smart looking. Does the job.
Very efficient new generation.
A review of the Asus Chromebook C423NA 14"
A good Chrome book can do almost anything a regular laptop can do, and by far this chrome book exceeds that statement. After testing many chrome books, I recommend the Asus Chromebook C423NA 14". It's comparatively inexpensive, and it offers fast performance and an excellent keyboard and trackpad. In addition, it's compact and light, and its 1080p touchscreen is vivid and bright. The battery should survive a full day of work or classes. There is a good selection of ports on the C423. Each side has a USB-C and a USB-A, and there's even a microSD slot. The design feels modern and sleek. The C423NA also has some pretty slim screen bezels, with 78% screen to ratio. Along with looking nice, the C423 feels well constructed. Though, there's a bit of flex in the bottom part of the case and the back of the lid, which isn't unusual. The Asus C423 comes with 4GB of RAM, which is great to see on a budget Chromebook. At the moment 4GB of RAM is more than enough to do most things. It will easily deal with day to day tasks and you should have no problems using any of the Android Apps currently available from the play store. It also features a matte anti-glare coating, which means you'll not have any annoying reflections when using your Chromebook.
Early days but so far so good
Great product. So fast and easy to use this is my first chromebook and would definitely recommend to anyone whos looking for new laptop
Simple to set up and use, having used an old laptop which weighed about 5kg this is like using a bigger phone, so simple. Good graphics and sound, very happy with it.
Came next day. Really easy to use. Looks great. Highlight recommended.
This is a great netbook style laptop, takes a little while transitioning from Windows but so easy and fast. Nice and easy to navigate round the screen and comes without the hefty hard drive space that clogs up and slows other pcs down. Great all round performer and would definitely buy another one.