Customer Reviews — AEG 60cm Dual Fuel Cooker - Stainless Steel - A/A Rated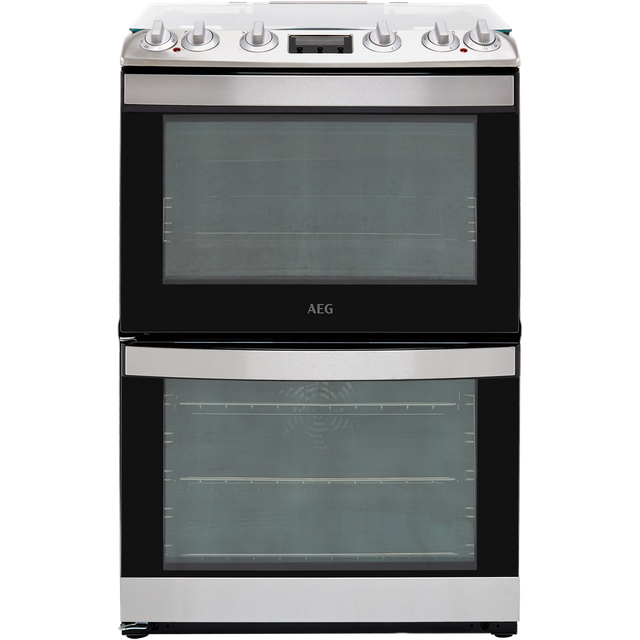 Customer Reviews — AEG 60cm Dual Fuel Cooker - Stainless Steel - A/A Rated
AEG CKB6540ACM 60cm Dual Fuel Cooker - Stainless Steel - A/A Rated
Rated A/A for energy efficiency

Main electric fan oven cooks food evenly on every shelf

Second electric oven with handy grill setting

Special liners absorb grease to make cleaning easier

Dimensions (cm) - H90 x W60 x D60.9
Good solid well-engineered cooker
Good solid well-engineered cooker let down by very flimsy control dials and housing
Love everything about this cooker FABULOUS
Amazing fantastic quality ?? ?? ?? ?? ?
Disappointing - and not cheap!
Really disappointed with this. Main oven temperature is way hotter than the dial says. We even bought an oven thermometer to check, and 180 on the dial is around 215 inside the oven. All our food was being cremated. A few minor annoyances - the handle on the top oven isn't a bar. We tend to hang towels on the upper bar, but now that there isn't one, we'll have to find somewhere else to put them. Also, the oven racks have a raised rim, so you can't just slide food off the racks, you have to go in and dig it out, which isn't always easy and has already led to one burnt hand. Just little things, but they make a difference. I really don't like this oven, am investigating returning it for a refund.
Very nice and looks good, easy to use and clean
We needed a double oven that was dual fuel asap, after looking through reviews and having a budget in mind this AEG ticked every box on paper. Very easy to install (if you're qualified) easy to use and surprisingly wide ovens which was an added bonus, what I like the most is that it's aesthetically pleasing which is a result, kitchens being the focal point of most houses and all that. AO again made the process easy, which they should do as I'm paying money for items but some companies are stil pretty terrible with communication and follow ups. Lovely cooker, looks nice, was well priced and would thoroughly recommend. It does not make your cooking taste any better by the way just looks nicer while you're ruining the family dinner ??
Great cooker, the ovens are large and easy to use. You have to hold the ignition of the hobs for a while for them to stay alight, but that's no problem. Easy to clean. The only negative is the plastic knobs used ion manufacture. I would like to be able to change them for something more substantial. It's the only negative.
Lovely Functional Dual Cooker
This AEG cooker is very good quality. The functions are simple but just what you need and none of what you don't. Both ovens cook evenly and well. The oven areas are well lit so you can see what is going on and the external doors remain just slightly warm so you don't have to worry about little ones running in and out of the kitchen. There is nothing I don't like about it. Highly recommended.
My old cooker was in really good condition but was many years old so when we developed a problem, we decided to buy a new one rather repair and basically replaced it like for like. I cannot believe the difference in the efficiency of this cooker, it is fantastic. The performance from this one as compared to the old one is outstanding. The power in the gas rings and the electric oven is far superior to the old one and I can't believe the difference. Great cooker, looks good, performs well and I am really enjoying cooking again. Great choice and good decision to change rather than repair.