Customer Reviews — Candy 50/50 Fridge Freezer - White - F Rated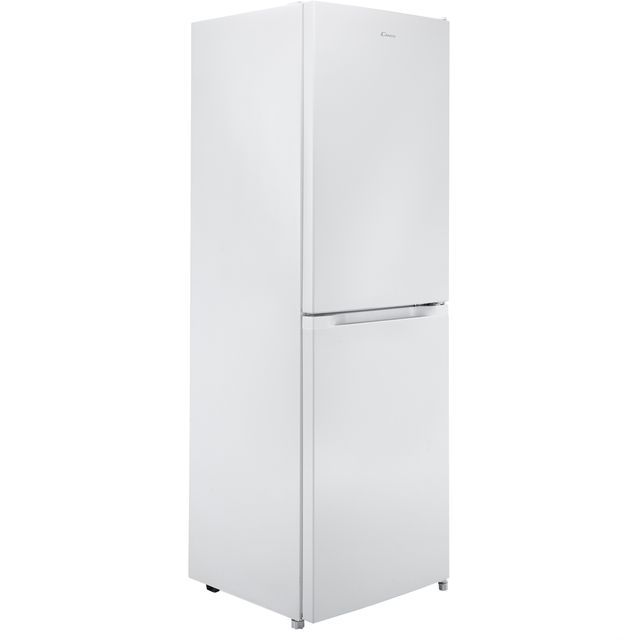 Customer Reviews — Candy 50/50 Fridge Freezer - White - F Rated
Candy CMCL1572WKN 50/50 Fridge Freezer - White - F Rated
253 litre capacity - holds 14 bags of food shopping

Defrosting is easy with minimal ice build ups

salad crisper to keep fruit and veg organised

reversible doors to suit your kitchen layout

Dimensions (cm) - H176 x W54 x D58
Candy fridge freezer great product
No exposed elements in freezer very spacious
Perfect for my little mum
Bougt this for mum. She doesn't do the internet so this was a first for getting something off 'my computer thingy' She's a smidge over 4 foot 6 now bless her, and getting on a bit, so we wanted something not too expensive, but that ticked all the boxes for her age/height/limitations. With 4 freezer drawers, this gave her 1 more than she'd had oreviously, and that has made a huge difference for her. She doesn't keep much in the fridge, and struggles to reach, so all the shelf positions were a bonus and have made life far more manageable for her. She's commented it runs very quietly too. We had the guys take her old one away too- she was so stressed about not being able to move the other one. The delivery team were so lovely to her. Overall she gave everything a 5 stars - so looks like I'll be ordering all her stuff now
Good size. Holds tons. Easy clean. Worth the cost
It's a good relatively large inexpensive fridge freezer, does everything you'd expect, and doesn't cost a fortune.
Really pleased with my purchase, salad crisper so much better, extra space in both fridge and freezer, and great value for money
Really good value for money
Excellent, but with reservations - 4½ stars
I had a hell of a struggle to find a fridge-freezer that fitted my criteria (including allowing sufficient space at sides and rear in a rather minimal kitchen space, and really this was the most suitable out of about three - but still with a little reservation. This was to replace another well-known make of 2013 vintage, that model being less tall that this one. I really wanted the previous dimensions, but it became apparent that the better efficiency of modern units meant thicker insulation and thus less shelf area for given external dimensions, so, with my failure to find a similar-height one with sufficient internal capacity, it became clear I had to accept a taller model. However, the fridge section of this model, although looking invitingly roomy, is a disappointment because, of all stupid things, it has the same number of shelves as on my previous model despite room for an additional one - and of course with less shelf area. One does have alternative side slots for limited adjustment of existing shelf height, but there's no means by which I could have an additional shelf in there. -- And, frustratingly, the salad tray is shallower than in my previous model, so I have to put some of my raw veg. in polythene bags on the shelf that forms the lid of the salad tray. So, yes, I *am* saying that despite having a significantly larger fridge 'capacity' than in my previous fridge section, in practical reality is distinctly LESS, which is quite inconvenient for me. And even that isn't the only salad tray issue, because the bottom shelf, which is supposed to seal the salad tray off from the rest of the fridge to stop produce from getting dried-out, isn't flush at the front, leaving a small but significant gap. I know that's not just an individual fault, because initially the equivalent model with water dispenser was delivered in error (since replaced by correct model), and that had exactly the same issue. The freezer section fares better, because it has one more tray than my previous model, so no capacity is wasted through there being too few shelves. However, even here, because of the lesser area of each shelf / tray, and the trays being slightly shallower, I don't think I've actually gained in usable capacity, and might still have lost a little. On the plus side, the temperature control is quite different from what I've always experienced before. Whereas with previous units there was always a rotatable knob with arbitrary position numbers, so one had to use trial and error to find what got the right fridge temperature, this smart beast actually displays a choice of actual degrees-Celsius temperatures - and so far it has run nicely within a reasonable range of the set temperature. I have it set at 2 degrees, and mid-shelf temperature away from back appears to be fluctuating between 1 and 4 degrees, which is much more consistent control than I had previously. The internal fridge light is excellent - the first time I've had a fridge with white LED lighting. That gives me a much nicer user-experience. I'm fussy about absolutely minimal noise from appliances, and this is the quietest fridge-freezer I've yet had. Not only very low motor noise level indeed, but also the gurgling and whooshing in the cooling coils, which was such a feature of my previous model, was hardly audible at all this time, even close-up. In a nutshell, definitely recommendable, but with caveats.
Good product, door reversal with caution
Very happy with my purchase. Nice and spacious and quiet. A word of caution. If you want to reverse the doors then you will need to use a spanner to undo the screws. The screws on my fridge freezer were tightened to a level that would make you strip the threads when using a screwdriver.