Customer Reviews — Cuisinart Style Collection 4 Slice Toaster - Rose Tint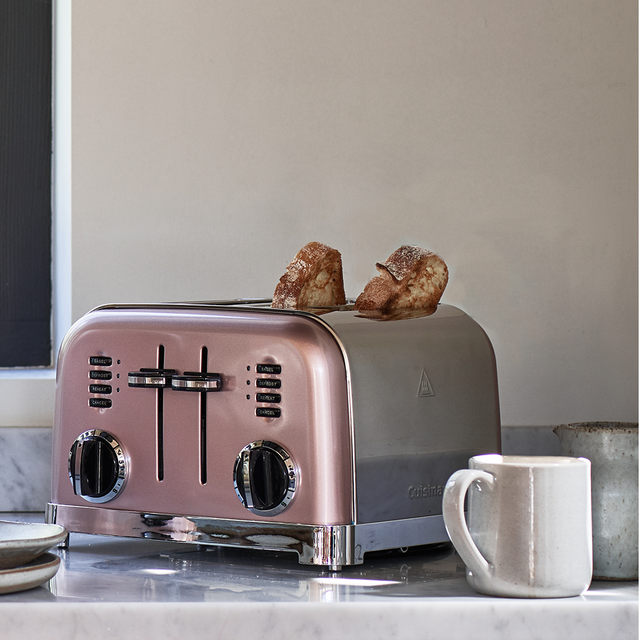 Customer Reviews — Cuisinart Style Collection 4 Slice Toaster - Rose Tint
Cuisinart Style Collection CPT180PU 4 Slice Toaster - Rose Tint
Toast 4 slices at once

High lift function makes it easy to remove your toast

Special function for perfectly toasted bagels

Select your ideal setting for golden brown toast

Handy removable tray lets you dispose of crumbs easily
Elegant, stylish and toasts to perfection
Very good at what it does
Very aesthetically pleasing - does exactly what it does on the tin.
Ordered and returned without actually making toast. The toaster felt flimsy and certainly not £80 worth - each of the turning knobs had a slightly different feedback to it, with the right hand side one feeling significantly more "scratchy" than the other. Despite being advertised on the manufacturer's website as "extra deep" and "designed to accommodate taller breads" the slot width was only 13.5cm (average at best) and a decent bloomer wouldn't fit (neither sideways nor "heightways"). Lack of attention to detail was obvious, with each of the lever knobs resting at a slightly different angle and poor quality print on the buttons. We ended up with a £25 toaster which feels much more substantial, has a very similar look, and a 15cm slot that accommodates most slices.
Matching kettle, on the smaller side of a 4 slice toaster but absolutely perfect for not taking up too much worktop space!
Excellent product. I haven't found fault with it at all.
Great toaster. Just the look I wanted for my kitchen, looks really stylish and works a treat.
Stylish and does the job really well.
Really nice design - looks fab in the kitchen. I read someone's else's review where they said they had read the user guide and understood the benefits better. I have done the same and I am pleased I have.
Feeling "in the pink" with our new toaster.
This piece of kitchen equipment is of excellent quality and looks lovely sat on our worktop. Not only does it look good it actually works better than our old toaster, which finally gave up the ghost a couple of weeks ago. It has already been tested on a couple of the features advertised and was not found wanting. All in all a superb purchase which we are extremely satisfied with.