Customer Reviews — AEG 2-in-1 Stick CX7-2-35WR Cordless Vacuum Cleaner with up to 35 Minutes Run Time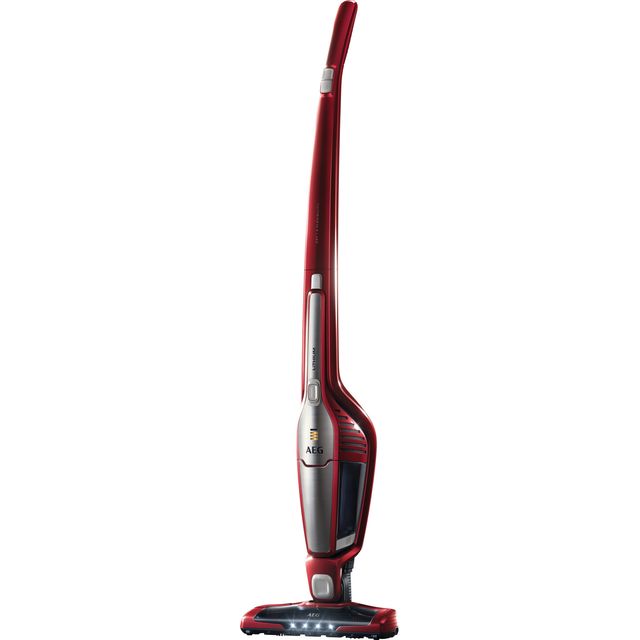 Customer Reviews — AEG 2-in-1 Stick CX7-2-35WR Cordless Vacuum Cleaner with up to 35 Minutes Run Time
AEG 2-in-1 Stick CX7-2-35WR Cordless Vacuum Cleaner with up to 35 Minutes Run Time
Up to 35 minutes run time from a single charge

0.5 litre dust capacity

Self-cleaning brush for long-lasting performance

Bright LED lights on floorhead illuminate dirt and dust

Swivel head pivots - making cleaning even easier
Lightweight and easy to set up. Good manoeuvrability, good suction and easy to empty.
This vacuum cleaner is OK, but not amazing. I have only given it three stars as when it picks up hair (mainly mine and it's not long) it gets stuck in the rollers to such an extent that after every time I use it, I have to turn it over, cut the hair as it is so tightly tangled, and pull it out. I have also found that you have to use the high setting for carpets as otherwise it isn't strong enough. However, it charges quite quickly and is very very light, which is a bonus if you can't manage a heavier model. The charging port is also very nice and helps with storage.
Very happy with this product, light weight and easy use instructions. As due to medical conditions needed to be able to use and empty and clean easy. Well recommended.
Love this, good looking, light weight, easy to use and store. Shame it doesn't come with tools, although you can buy them separately.
Knew I was on to a winner!
The AEG CX7 cordless vacuum cleaner was bought as a successor to the AEG Ergorapido which was six years old. I was always very pleased with that one, and delighted to see the improved run time and reduced charging period on the new one. Very easy to use, swivels a bit more than I am used to, but that is good for getting into awkward places. I am just amazed (and embarrassed!) at the amount of dust it picks up.All in all an excellent purchase, as I knew it would be.
Lightweight, easy to maneuver, especially like the feature to remove hair from brush, works very well. Charging stand is good idea as vacuum cleaner is always charged and ready to use. I manage to do the whole house (no carpet) with one full charge which I am very pleased about.but the dust container needs emptying after each time, this is easy to do though. Overall very pleased with the product.
Overall a good vacuum cleaner. It's suctioning well enough, though the low level is a joke, nothing happening and the function is a waste. It's not brilliant on carpets, but it's durable. Love the lights on the front, does help you see the dust better. The charging light is quite bright and can lit up a dark room (I have to have the charger in my bedroom and at night it flashes up every 5-10 minutes, which is a bit annoying when trying to fall asleep).
Why spend hundreds more when this AEG does a great job? The battery charge lasts long enough to vacuum clean the entire house, even with higher power being used on rugs and in bedrooms. The cleaner stores easily in the cupboard and is compact - unlike other cordless cleaners the weight is at the bottom so less strain on hands and wrists. The only downside: AEG will sell you the full compliment of accessories as an extra, which is a bit cheeky, but the cleaner does come with two fittings though. Recommended.