Customer Reviews — Indesit Fully Integrated Standard Dishwasher - White with Fixed Door Fixing Kit - F Rated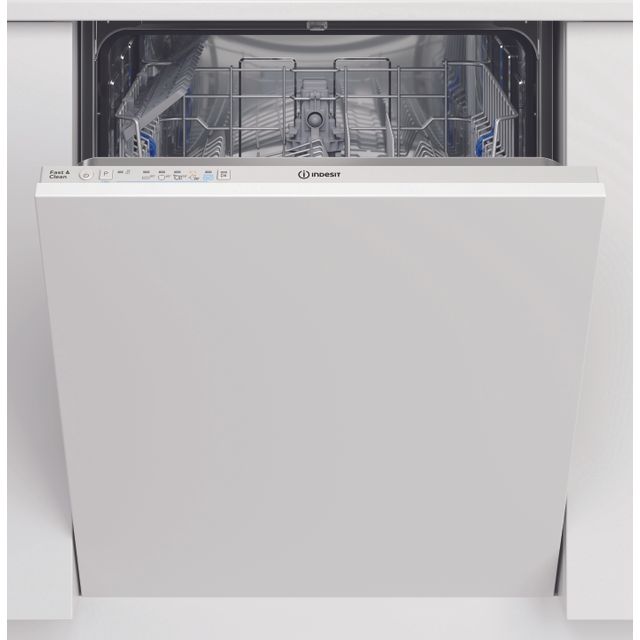 Customer Reviews — Indesit Fully Integrated Standard Dishwasher - White with Fixed Door Fixing Kit - F Rated
Indesit DIE2B19UK Fully Integrated Standard Dishwasher - White Control Panel with Fixed Door Fixing Kit - F Rated
13 place settings - great for medium-sized households

Push & Go button immediately starts an everyday cycle

28 minute quick wash - great if you're in a hurry

Cycle with powerful jet action removes burnt on food

Dimensions (cm) - H82 x W59.8 x D55.5
Happy with purchase, seems a good dishwasher.
Decent features and performance for the money.
I've had the dishwasher a couple of weeks and overall I'm pleased. That could in part be due to the fact that after my previous dishwasher broke down, I went without one for 6 months. After an extended period of washing dishes by hand for a family of 5, anything would be an improvement. Pros - It was reasonably easy to install. There are 3 adjustable legs, 2 at the front which can be adjusted with a spanner and 1 at the back which can also be adjusted from the front via a turn-key system. This made it fairly painless to raise to the necessary height after pushing it under the coutner. The top rack inside is heigh-adjustable, making it more flexible with regards to the size of items that can fit on each level. Need to wash Alan Partridge's big plate? No problem, just raise the top rack and in it goes without stopping the spinning spray arm. It's very quiet - when I first set it going I wasn't sure it was working until I opened the door. Washing performance seems decent, but there are a lot of other factors to this, including which detergent you use and how you stack the plates, so let's just say your mileage may vary. Cons - I can't get the "Eco" program to work. I don't know if it's a fault or if I'm doing something wrong, but it just beeps at me and never starts. I installed the cupboard door on the front using the drill guide, but it hangs slightly lower than the other doors in my kitchen, so I recommend double-checking before you drill any holes. I could adjust it easily enough but realistically that's a low-priority job in my house, so it will probably remain like that. Overall, I would recommend the dishwasher, but with that in mind I did do some research before making my purchase, and the vast majority of these items are only superficially different, or re-badged units from the same few factories in Turkey, Poland or China. Most of the companies you might recognise from the past are now subsidiaries of larger distributors in those countries, and in this price range, there's very little to choose between them.
good cheap dishwasher. has a very springy door, that you have to pull out bottom rack to stop door pinging shut. decent value for money dishwasher.
Delivered as advised, on time, with helpful and obliging delivery staff. Fitted built in Indesit dishwasher with little problem and all working well, so far. However, it has only been a week!
Easy to fit and working very well
Works really well, easy to use quiet does a good job . Not the same build quality as the one it replaced but to be expected as only a third of the price.
Clean hot plates and cuttelrey.
Very pleased with my purchase sparkling dishes in under 30 minutes.my last one took over 2 hours so a saving on my electricity bill. So good all round.