Customer Reviews — Hoover Dynamic Next 10Kg Washing Machine - White - A+++ Rated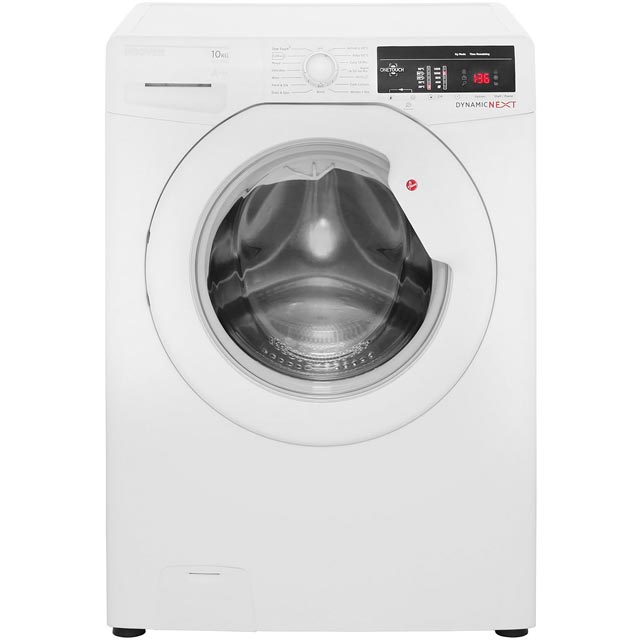 Customer Reviews — Hoover Dynamic Next 10Kg Washing Machine - White - A+++ Rated
Hoover Dynamic Next DLOA4103 10Kg Washing Machine with 1400 rpm - White - A+++ Rated
10kg drum capacity - great for large households

Automatically adjusts settings to take care of clothes

Hygiene+ and 90 degree cycles help kill germs

Control your appliance with an Android smartphone app

Dimensions (cm) - H85 x W60 x D54
An excellent product and excellent value but for the noise.
I love this machine but on the 1400 spin it's very noisy
What a big mistake I made buying this machine. I bought it for 2 main reasons: 1 - the drum size, can't fault it perfect. 2 - one touch control by my mobile phone - load of rubbish, I can't control it from my phone as I don't have NFC - never heard of it ? No neither have I. Apparently it's the software that the app runs on and your phone must be NFC compatible - there are very few phones that are so I can't use the function at all. iPhone doesn't have NFC so I'm screwed but they fail to tell you all this before you buy it. Also it's very plastic and poor build quality. Just whilst I was unpacking it the front display screen pushed through. Poped it back in but not the point. The soap draw is tiny, the machine in general just feels plastic and cheap. Avoid this at all cost.
Easy to use, energy efficient and aesthetically pleasing.
This washing mine has a 10kg load with 1400RPM. It has a built in NFC sensor allowing you to download various other other programs for your washer which you control through the app on your phone by placing your phone on the touch screen panel. The appearance of the washer is lovely. It is sleek with a smart appearance. There is various programs to choose from, all of which are customisable. You can change the temperature, the RPM, Add rinses/spins/easy iron. You can also change the length of the cycle depending on how soiled your clothes are. Which is ideal and makes this a very energy efficient washing machine. The drum itself is very large. I can fit a full double and a single bed set/bottom sheets with space to spare. That is a perfect quality for any growing family. It also has child lock allowing you to run your washer without worrying about curious children. The only issue is the information booklet doesn't have enough information on how to effectively use the washer to it's full capacity. You can Google the information to find out though. I would rate it a 9/10.
Really good machine - big drum means that I can wash a really big washing load all in one go. It has loads of features and programmes, I also like the one touch so I can make sure that the machine is running correctly.
I dont use alot of the cycles on offer ,just need a 40 min cycle with a 1400 spin with a 40 degree temp.Alot of the cycles are 60 degree so to start a wash i have to change the temp ,change the spin which i cant always do, so i have to wait for the cycle to finish then put it on a 1400 spin.My least favourite machine ever due to the cycle choice.
Very happy with my Hoover Dynamic washing machine. Very easy to use, looks good & lots of useful preset cycles to choose between. Large drum capacity & large porthole for loading/unloading machine make my life much easier - I would definitely recommend. Perfect for me, it actually feels like I'm doing less washing!!
Sleek looking, great capacity and easy to use.
I've really enjoyed using this washing machine; it really suits the needs of a small family with the large drum and variety of wash cycles. There are three different rapid cycles as quick as 14 minutes as well as three different stain level applications that you can alter for each cycle; both perfect for grubby children! There's also a handy lock that can be applied once the machine has started so any rogue pressing of buttons won't stop or alter the settings mid-wash. I wouldn't say the machine is loud, even when on maximum spin, but equally i wouldn't say it's unnoticeable either. Often it seems that it's the high pitch it emits is what makes you pay attention to it, but I personally don't think it's a problem. My main gripe is actually that the powder drawer feels a bit flimsy, contrary to the rest of the machine, and for me it should be deeper so you're not contorting to tip your powder into the right compartment. However this doesn't detract too much from the rest of the positives. The app is an added bonus for this machine and provides you with the ability to check on the health of your product. I think the look of the machine is sleek, and the clarity of the wash timings, which can easily be adjusted to suit, is really handy. Overall I'm really pleased with this appliance.