Customer Reviews — Hoover Dynamic Next 10Kg Washing Machine - Black / Chrome - A+++ Rated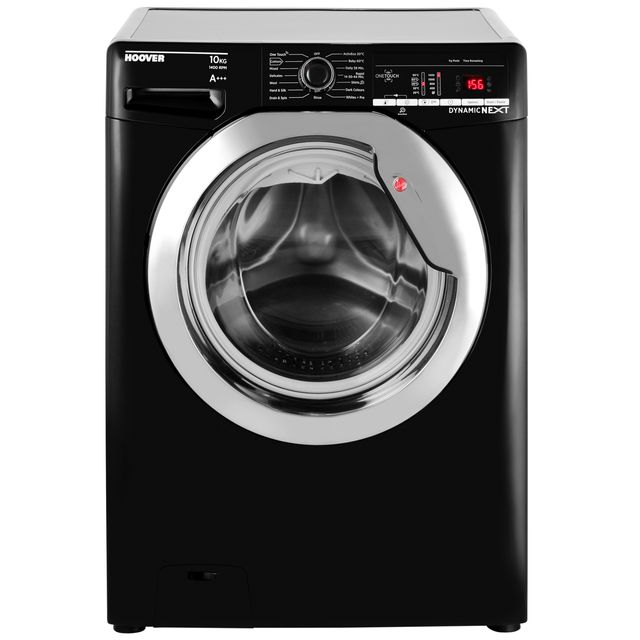 Customer Reviews — Hoover Dynamic Next 10Kg Washing Machine - Black / Chrome - A+++ Rated
Hoover Dynamic Next DXOA410C3B 10Kg Washing Machine with 1400 rpm - Black / Chrome - A+++ Rated
10kg drum capacity - great for large households

Automatically adjusts settings to take care of clothes

Take your pick from 14, 30 and 59 minute quick washes

Hygiene+ and 90 degree cycles help kill germs

Dimensions (cm) - H85 x W60 x D56
Easy to use and not loud.
Lovely machine couple of quirks
This machine has plenty of space for a big wash making less washes a week. Easy to understand control and adjustable spin and temperature on settings. Quirks I have found no 1200 spin so u have do 1000 which bit damper after or 1400 which could be a bit harsh and leave tops crinkled. My choice is 1000 so I don't have to iron. Other quirk is you can change temperature and spin threw out wash with touch pad which I did with my bottom twice before finding the two key lock. I have no children but I think it be better if it locked keys once wash been running for a minute so you can change a mistake at beginning but then you can walk away with it locked without having to get two buttons pressed together to lock. I personally can't get the at same time push hubby can so I just leave it unlocked and try not to let bum touch it when I make tea. I find it quiet machine my husband moans that it makes noise as he has about every machine we have owned. He agrees however that we can't hear in living room in our one bed flat so to me that is quiet. I thought draw didn't open enough on day one but I just hadn't pulled it enough. Hubby's review of machine is 'it shut the wife up about the old one leaking' which apparently wasn't bothered about but 'yes it is nice machine that ties in nice with the kitchen' (we got black one) my washing smells nice husband is banned from putting brake cleaning clothes in this machine. I have washed my thin king-size duvet all in all we a happy couple with our machine
Lovely big load and very quite
Hoover Dynamic Next DXOA410C3B 10Kg
HAVE USED 4 OF THE PROGRAMMES CLOTHES ARE WASHED BEAUTIFULLY - VERY QUIET - EASY TO USE - LIKE THE LARGER DRUM IT GIVES MORE ROOM FOR THE CLOTHES TO GET CLEAN - VERY HAPPY WITH IT
This machine is a replacement for a much older machine. There are so many features which are better including the rapid wash selection. The one touch function is really good. The wizard app is really easy to use. It seems slightly noisier than my old machine but it is spinning at a faster rate so I don't mind. It was competitively priced and looks great. I can get so much more washing in this drum so definitely more economical. All round a great buy.
What a great washing machine, so many programmes and washes my clothes great, very happy customer I will be buying more of my appliances from AO in the future
Black and Chrome finish is good and obviously chosen to match our other appliances style. Well packed and protected for delivery. Easy to set programmes for cycles and simple to use, but best to read manual/instructions first to get best use out of your machine. A lot quieter than our previous machine on both wash cycle and spin, but not silent as one should expect with any working machine. Very good economy on the shorter cycles which clean very well - best using liquid capsules or liquid in cap inside machine. Temperatures 30 - 60 degrees more than adequate. 20 degree cycle is very good on towels etc. with added pre wash disinfectant product like Napisan/Dettol. This cycle costs as little as 10 - 15p electricity to run, just longer time to wait. Good 10kg load capacity - although manufacturer recommends lower weights between 6 - 8 kg on heavier items such as towels etc. to protect drum on spin - which makes sense and also allows for washing to have increased room to get agitated. Excellent gentle hand wash cycle with override on spin cycle to stop over creasing with other option features like additional water for soaking etc. Some cycles seem to have very long wash times - but basically you don't have to use them if you don't want to. For tech fans there is an app link for operation from mobile phone or tablet - only full operation with android devices, so a little limited for Apple devices and to be honest if you have to get up to put the washing in the machine I would suspect you would be more than capable of setting the cycle and turning It on, but may be useful for some who want to defer the start time if they have to go out and want washing to be finishing on their return? Waited a month or so to review to be comfortable with its performance - so would highly recommend.
Happy with product, not AO
The Hoover product is great. Easy to use and quiet. Not happy with service from AO.com