Customer Reviews — V7 Dyson V7 Absolute Cordless Vacuum Cleaner with up to 30 Minutes Run Time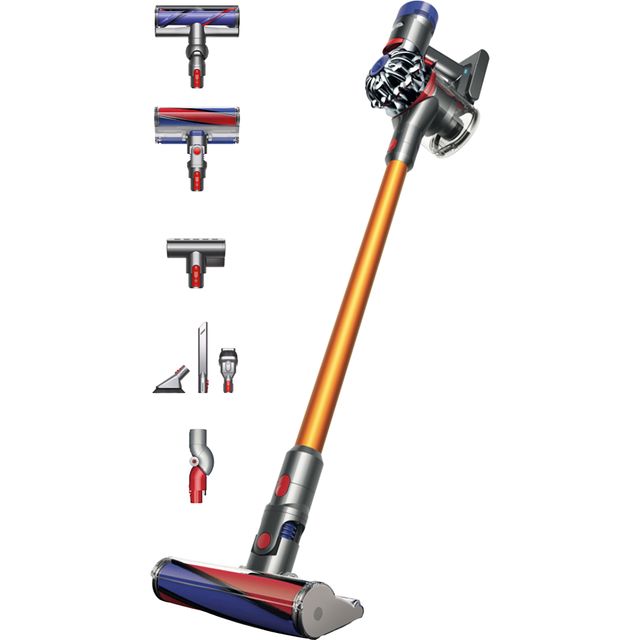 Customer Reviews — V7 Dyson V7 Absolute Cordless Vacuum Cleaner with up to 30 Minutes Run Time
V7 Dyson V7 Absolute Cordless Vacuum Cleaner with up to 30 Minutes Run Time
Up to 30 minutes run time from a single charge

Bristles work hard to remove stubborn, ground-in dirt

Nifty tool makes it easy to reach under sofas and beds

Cyclones separate air and dust for powerful cleaning

Lightweight - great for cleaning from room to room
Overall a great product for all parts of the house.
Great vacuum, great AO price, we saved £50.00 !!
I prefer the Dyson V7 to the V6 as it has a far improved design to empty the bin. However, apart from this I do not think it is that different. It is a perfectly good and usable Dyson cordless machine.
Having been sent a new battery as the vacuum cut out after a minute (a known fault apparently), the machine only runs for a short period on full power. The half an hour advertised must be based on normal power. Really not fit for purpose as you need full power to pick anything up and you end up re-charging every 10 minutes.
Worked fine for the first 3 months, then packed up. Apparently there is a known fault with the battery. New battery being sent out. Await to see if this resolves the problem.
Excellent hoover, made cleaning very easy
Amazing easy to use .. highly recommended Made cleaning up after little kids miles easier !
Really happy with it. Surperb
Very good suction power and so much easier to get into tricky spaces but the run time seems to be shorter than 30 mins as it's supposed to