Customer Reviews — Optoma HD143X Projector Full HD - Black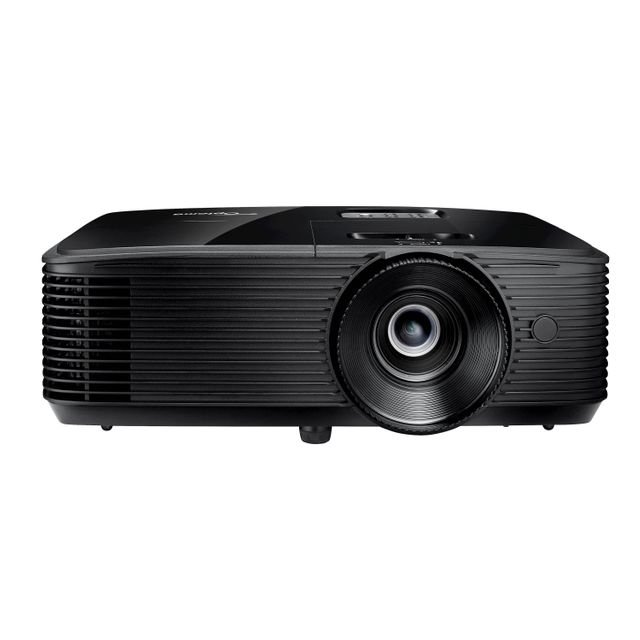 Customer Reviews — Optoma HD143X Projector Full HD - Black
Optoma HD143X Projector Full HD - Black
Full HD - sharper images and more detail than HD

Max screen size of 301 inches - good for public viewing

23000:1 contrast ratio - bright, vibrant pictures

Connect external devices using the HDMI and USB ports

Adjusts picture settings for day or night viewing
Not bad. Doesn't have blue tooth option which would be a major improvement.
My first projector and I found this easy to use straight out of the box. Picture is crystal clear and sharp, Colours are perfect. I found the projector to be quiet also. I would highly recommend this projector for home cinema use.
Chose projector after reading independent tech reviews which rated it highly on performance v cost. Whilst easy to use and set up there was no user manual included to ensure I'm making best use but these can be downloaded
Spot on! Just what we needed.
Our cricket club was looking for a projector and this one had been recommended to us by another club. It hasn't let us down. Easy to use, straight from the box. We're using it on a 120" screen and it's great. excellent value for money, highly recommended.
Despite being a bit bigger than expected, this projector is amazing. It has great image quality and feels quiet for a projector. Sound quality is acceptable but it comes with an audio output, which most projectors I checked before buying did not have. Screen size is over 100" at a relatively short distance.
At first I wasn't too sure about getting this, I wanted something for movie nights and sports events on a big screen. Was worried the quality of the picture would not be too good but I have now had it for a week and it really is amazing quality. The sound output on the projector is okay but I have put it through a larger speaker using an aux lead and it is great. Definitely recommended!
Pin sharp image, easy to use. My only slight let down if anything is that the picture is a bit too big and without a proper optical zoom to reduce it- check your image size and distances before buying
great services fast delivery and awesome support,about product have to say it s a quality piece of gadget,vibrant colours , 3D amaze me all the time ,in a dark room on eco mode it s perfect balance , bright mode and fine tunning okay but not brilliant on day light, echo mode pretty silent as soon you change on bright mode become more noisy and hot ,speaker pretty useless and poor quality sound but with a sound bar or wireless speakers it s perfect , nice remote with light ,easy to setup , cables 1.5 m [uk/eu plug in] happy with it 100 % ,it does what suppose to do and it s Full HD/3D for the money i think it s the best choice value/quality , i am currently use a 85 inch p.v.c screen and it s perfect for a 2,8 -3 + m projection distance . enjoy!