Customer Reviews — De'Longhi Dedica Traditional Pump Espresso Coffee Machine - Silver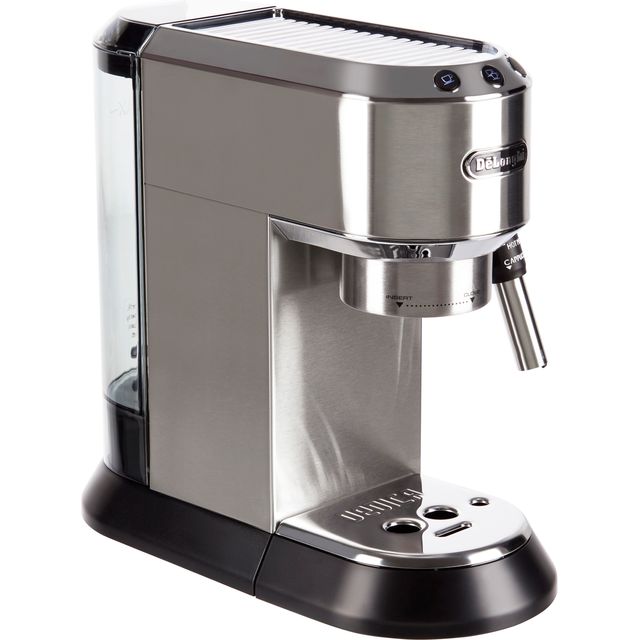 Customer Reviews — De'Longhi Dedica Traditional Pump Espresso Coffee Machine - Silver
De'Longhi Dedica Traditional Pump EC685.M Espresso Coffee Machine - Silver
Milk frother gives your drinks a perfect creamy finish

For use with ground coffee or ESE pods

Machine is instantly ready for use

Warms up quickly so you can enjoy your coffee sooner

Adjust the amount of water added to your coffee
Fab machine looks great In kitchen
I loved my old machine, and thought it irreplaceable. The EC685 is so much better. Took a little practice but now every cappuccino and espresso are consistently first class. Using a good grinder with a fine grind probably contributes. Small kitchen/ small budget this is the one. Now hoping it lasts 15 years like my old one.
Well this machine is half the size of my old machine but makes coffee just as good as my old one and it cost a third of my last machine, as in other reviews it is a bit of a faff setting it up but once you've mastered that it's so easy, I wanted a machine that took ese pods as they are clean and easy to use, this machine is so good and compact I will be taking it on holiday!
Bought after becoming disenfranchised with Nespresso and it's proprietary pollutants. This easy to set up, less of a faff and makes better coffee with less waste and expense. Would recommend.
Bought this for my hubby as an anniversary pressie. He loves it, it look a couple of attempts to get it right but now makes fab hot coffees. You can use a mug too by taking the base plate out.
Really easy to use, makes great coffee and easy to maintain and keep clean at a fab price!!
De `Longhi Espresso Coffee Machine
Excellent cup of coffee from this machine. Love the slim line of it looks great on my kitchen worktop.Overall rating 5 Stars
Brought this after reading some other positive reviews on it. I have been really impressed. Easy to set up with simple controls and an expensive look and feel to it. Less than half the size of my previous coffee maker, this looks just the part in my kitchen. Getting a great cup of coffee is an art but this machine takes the hassles out if it, retaining enough of a ceremony to make each cup taste special. Great milk frother too!