Customer Reviews — De'Longhi Dedica Traditional Pump Espresso Coffee Machine - Silver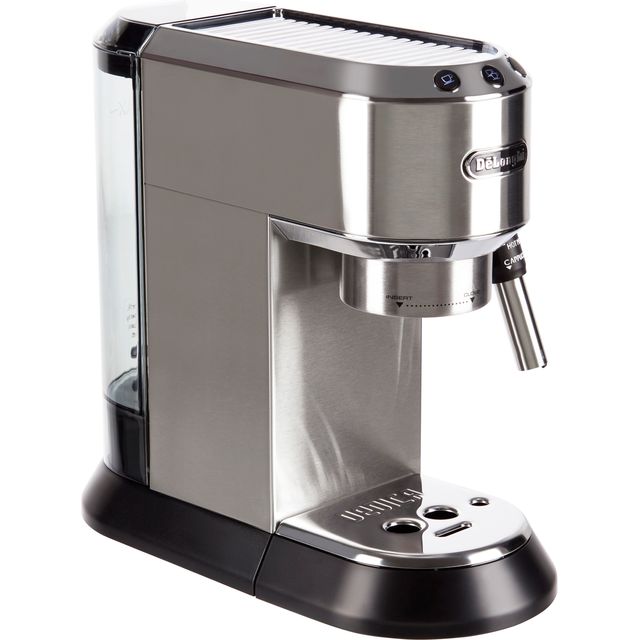 Customer Reviews — De'Longhi Dedica Traditional Pump Espresso Coffee Machine - Silver
De'Longhi Dedica Traditional Pump EC685.M Espresso Coffee Machine - Silver
Milk frother gives your drinks a perfect creamy finish

For use with ground coffee or ESE pods

Machine is instantly ready for use

Warms up quickly so you can enjoy your coffee sooner

Adjust the amount of water added to your coffee
Really easy to use, great taste, very pretty as well.
Good coffee machine, for expresso milk frothier isn't very good.
Neat, tidy, works well. Smooth action and good seal, not all machines do this.
Having persevered with instant for many years, was tempted for a pod machine. However with some research I decided to go down the traditional pump way. No regrets. This machine is well thought out and is of robust construction. Some reviewers have criticised the operating instructions but on-line videos soon help make sense of things. It might be a "male" problem of not bothering to read instructions! But really straightforward and importantly no messing to ensure cleanliness especially of the frother. All in all very pleased so far, 3 weeks on. One tip though, I always heat up the cup first for best results. The coffee from the machine is hot enough but cold cups are a no-no.
Very good product, only one shame is that you cant fit normal size mugs under
Great little coffee maker
Looks great, feels well made and easy to use. Thought the instructions were a bit daunting at first but after a bit of fun experimentation, I,m getting great tasting coffee. Highly recommend.
Totally happy with this purchase. The coffee is made really quickly and quality is superb. I would recommend it for anyone who is looking for compact yet powerful coffee machine.
Staff Raving about new Coffee Machine!
Nothing but praise for our new coffee machine. Staff are loving the freshness of their coffee in the morning.