Customer Reviews — De'Longhi Dedica Traditional Pump Espresso Coffee Machine - Silver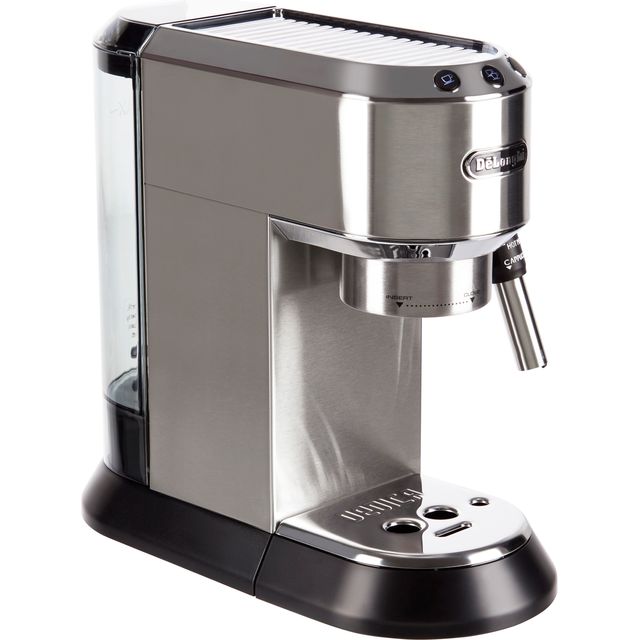 Customer Reviews — De'Longhi Dedica Traditional Pump Espresso Coffee Machine - Silver
De'Longhi Dedica Traditional Pump EC685.M Espresso Coffee Machine - Silver
Milk frother gives your drinks a perfect creamy finish

For use with ground coffee or ESE pods

Machine is instantly ready for use

Warms up quickly so you can enjoy your coffee sooner

Adjust the amount of water added to your coffee
Very stylish, excellent quality. Makes great tasting coffee. Good value, highly recommended.
I've had my eye on this coffee machine for a while now... So glad I bought it! The fact you can use just 3 buttons to program the machine for a few different things is great. I found the tutorials on YouTube really beneficial for optimal use of the machine. I feel like a proper barista pouring the hot velvety milk into the poured espresso! I almost forgot to mention how compact the machine is! Great for smaller kitchens or for those who prefer less clutter on worktops (like myself). This is worth the money and making coffee is fun with this!
Good product, takes a bit of getting used to. Funny taste with plastic basket in. Once taken out it taste ok.
Makes lovely coffee. With have used the pods and ground coffee and both good. Our son uses the milk steamer for hot chocolate. Good size too not taking up lots of space.
Bought this to replace my pod machine, first thing I noticed was it was hot nice and hot! Unlike the pod machine, seems to brew better as well fuller flavour really surprised at the difference made a lovely latte as well worth the money looks good too.
Bought this for my Wife for Xmas, worked once and then leaked everywhere and no longer works. Poor quality. Having to return the item to the DeLonghi.
Perfect coffee machine for small kitchen.
Great small espresso coffee machine. Really easy to use. Makes great coffee always. Worth the price. Since I bought it I drink 2 coffees every day and I used to drink just instant coffee. Now I can't imagine to drink instant one. Awesome milk frother. You just need a day or two of practice to make perfect coffee every day, doesn't matter what type you like espresso, latte or cappuccino.