Customer Reviews — Krups Everyday Coffee and Spice Mill Coffee Grinder - Black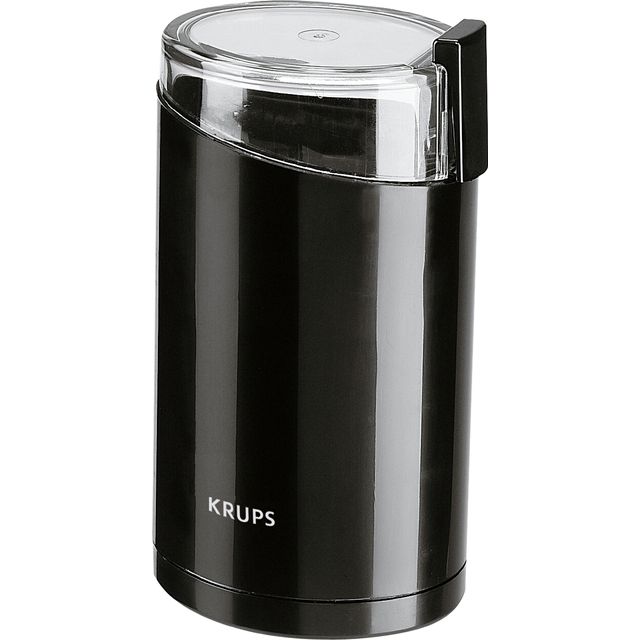 Customer Reviews — Krups Everyday Coffee and Spice Mill Coffee Grinder - Black
Krups Everyday Coffee and Spice Mill F2034240 Coffee Grinder - Black
Can grind 85g of beans

200 Watt power output

Can be used for coffee or for dried spices

Stainless steel blades offer precise, even grinding

Safety lock - will only work when the lid is closed
Works well as a coffee grinder only small issue is it's not the easiest to clean.
Does exactly what it says it should!
Absolutely first class product that actually does what it is supposed to do first time and subsequently! Grinds coffee beans to perfection and is very easy to use and to keep clean and in pristine condition.
Great little coffee grinder
Bought this to replace a hand grinder and am delighted with my new coffee grinder. What a difference! It is so easy and quick to use, only takes a few seconds to grind the coffee beans and as I have a very small kitchen takes up little storage space. Great product and excellent value.
Grinds the beans in seconds for my expresso machine. Good price and does the job well! Only issue there is no brush to get out all the coffee out the compartment.
this is the very thing i needed to grind my rosemary, very happy
Compact and very able product. No hesitation in recommending it
Great product for the Price
Great machine. Does what i wanted it to-do for the price. Can be very loud and doesn't grind completely finely but I'm more than happy with the grind i get for the price.
Have your coffee like never before!
Krups has been leading in innovation since 19th century and no wonder my last coffee grinder lasted for over four decades. History aside, all you want from your coffee grinder is to be light, portable, powerful and reliable - all of which 'Krups F2034240' is. No prepacked ground coffee can be compared with an experience of your morning coffee prepared with a freshly ground coffee beans (remember being swept away by smelling that aromatic whiff upon entering your local Italian café?). Plus, this grinder will also effortlessly grind any nuts & mill your peppercorns or any other spices in just seconds should you need it for any of your culinary adventures. A real little helper every kitchen should have and at the lowest price than ever before!