Customer Reviews — Krups Everyday Coffee and Spice Mill Coffee Grinder - Black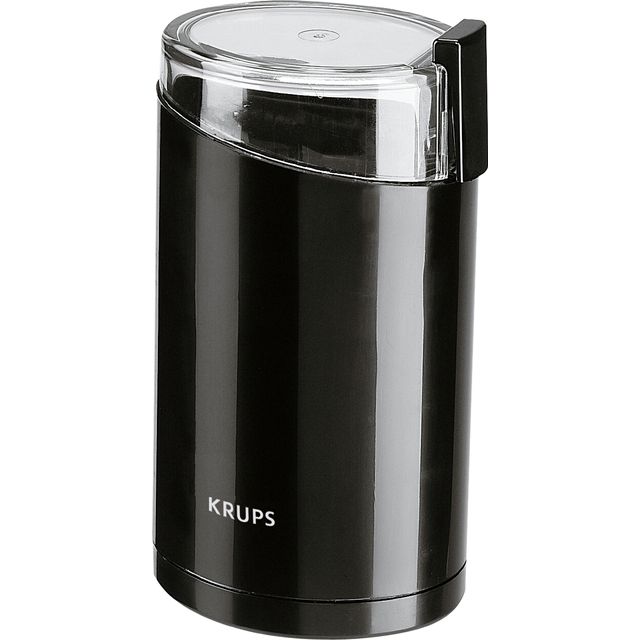 Customer Reviews — Krups Everyday Coffee and Spice Mill Coffee Grinder - Black
Krups Everyday Coffee and Spice Mill F2034240 Coffee Grinder - Black
Can grind 85g of beans

200 Watt power output

Can be used for coffee or for dried spices

Stainless steel blades offer precise, even grinding

Safety lock - will only work when the lid is closed
Works well as a coffee grinder only small issue is it's not the easiest to clean.
An excellent coffee grinder for the price.
Great product for the Price
Great machine. Does what i wanted it to-do for the price. Can be very loud and doesn't grind completely finely but I'm more than happy with the grind i get for the price.
Good spice grinder but difficult to clean
Good spice grinder but difficult to clean
I bought it as a present for my sister. It's a great little coffee grinder if you're looking for cheap and basic. It's a blade grinder so not quite as good as a burr grinder but it still does the jobs well and coffee still tastes good
Excelllent price quality product lovely
But one tiny error it's a bit small but other than its brilliant I love it and urge people to buy it good quality good money.
Does exactly what it says it should!
Absolutely first class product that actually does what it is supposed to do first time and subsequently! Grinds coffee beans to perfection and is very easy to use and to keep clean and in pristine condition.
Great little coffee grinder
Bought this to replace a hand grinder and am delighted with my new coffee grinder. What a difference! It is so easy and quick to use, only takes a few seconds to grind the coffee beans and as I have a very small kitchen takes up little storage space. Great product and excellent value.