Customer Reviews — LG V7 9Kg / 6Kg Washer Dryer - Graphite - A Rated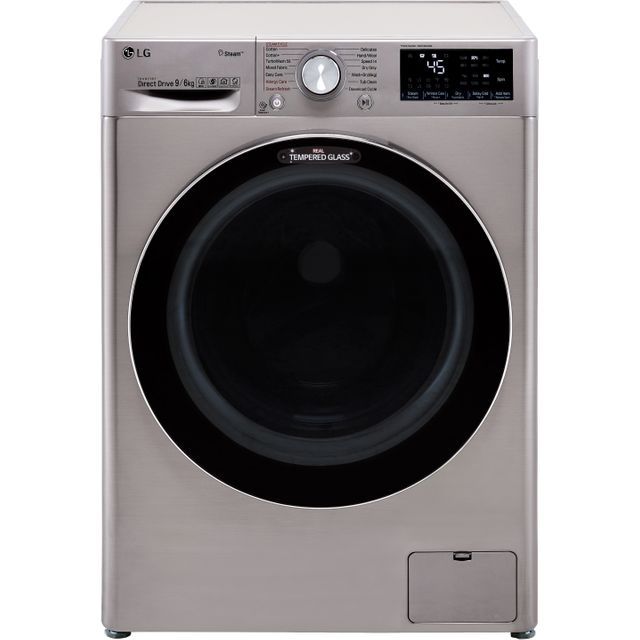 Customer Reviews — LG V7 9Kg / 6Kg Washer Dryer - Graphite - A Rated
LG V7 FWV796STS Wifi Connected 9Kg / 6Kg Washer Dryer with 1400 rpm - Graphite - A Rated
9kg wash, 6kg dry - great for medium-sized households

TurboWash™ reduces wash time, saving energy and water

Steam removes 99.9% of allergens and reduces wrinkles

Automatically adjusts settings to take care of clothes

Dimensions (cm) - H85 x W60 x D55
Tumble gets very hot, very noisy on spin and vibrates
Nothing Outstanding, does the basic job at its own time
It does what it says, washes and drys. However, a few issues when compared to a 8 year old 1400 Samsung it replace: - water pumps are noise, a lot of clonking as it determines how much water to use and frequency of it. - at even 1200 spin, it seems noisier than my previous one. - although on a level surface, I've used vibration absorbing tiles, this has helped a little with the noise and shaking. - the app is for the sake of it. Nothing you can optimise nor are the efficiency results accurate. - long gone are quick washes, 59min now! - would be handy if I could dim the lights on the front, when it's on, it likes to be seen! On the plus, slightly bigger drum, nice finish, easy to open/close door, tidy dispenser, does help a little with removing creases although it does mean only 4 shirts at a time.
A1 washer.. dryer not so!!
The look of the machine is very nice. Great wash programs and is really quiet. The drying process, with using the condensation is still damp after nearly two hours drying. It's the first time I have had a washer/dryer as I am stuck for space in a new home. Therefore I would only recommend a combined machine if it is your only option!! Good job for radiators.
We love how quiet it is, it also looks great. The only downfall is the amount of time it takes to dry. It goes on weight so two towels can take two hours, I have not had an electric bill yet...
This is a fantastic washer took a bit of time understand the programs.
Smart looking machine but watch the spin
On the whole satisfied but the 1400 spin speed is a little enthusiastic. Have had a couple of knotted wash loads and a ripped pair of trousers which are now in the bin.
It's taking time to get used to! Still trying to find just a spin cycle. After tumble drying the next wash was very fluffy! Not sure how to rectify that.
Great product, had an LG washer for 6 years but needed a washer dryer , this is great , V Quiet loads of features , looks good too