Customer Reviews — Google Home with Google Assistant - White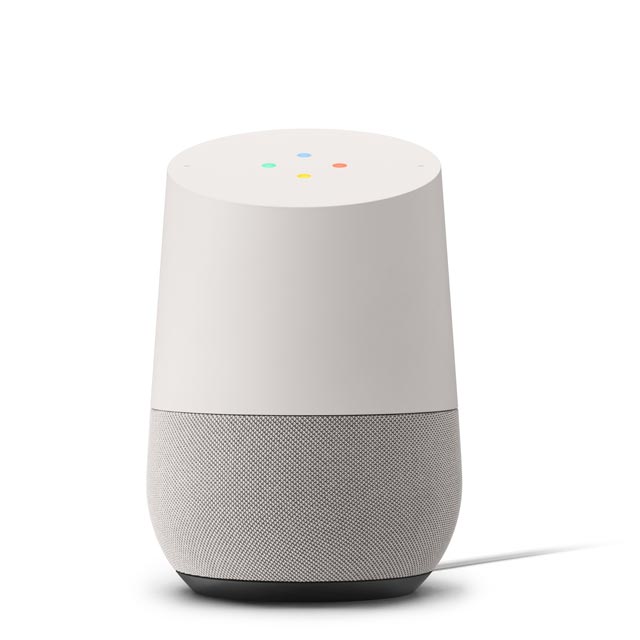 Customer Reviews — Google Home with Google Assistant - White
Google Home with Google Assistant - White
Voice-controlled WiFi speaker for your home

Ask questions, set diary reminders or get news updates

Play music from popular streaming services

Control other smart devices in your home

Works with up to 6 users with personalised settings
Voice recognition is better than I expected. Sound quality is a bit disappointing.
Google home smart speaker
Just amazing!!! I love love love it!!! ?? The voice recognition is perfect and it's something that I now rely on in the kitchen!
Slightly better than echo
Side by side google home is the winner although echo is easier to use on an app. Speaker good, better responses on voice commands( less of i dont know that) . Will convert to google home if they get better interface app for users
Super product with endless plus points.
This product is amazing. Answers your questions instantly. No more puzzling who, what, why by yourself!!! Music and news as and when requested. Easy volume control. Neat and tidy to look at. Easy to use. Just a thought.... could easily be used as therapeutic company for someone living alone. Gets them chatting. Now I've bought it I wouldnt be without it !!!!
Considered one of these or the amazon alexa for a while, this has great sound and can answer almost any question and along with spotify premium you have a limitless library of music to play anytime, would strongly recommend one!
Firstly, delighted with the sound it produces! Easy to communicate with and marvelous for crosswords! I can make diary reminders now by voice and that saves writing illegibly with arthritic hands. I am 79 and I saw this at a friend's house and he set it up for me...and I am still learning!
Bit of a glorified music player - that you still want.
The Google Home is a great gadget - if you pair it with everything and have the cash to get all the gadgets. Sure it can control your lighting IF you have the specified lightbulbs to go with it. It can even control your home and utilities IF you have the required set up. It has an amazing speaker and great to listen to music whether it's through Spotify or YouTube or whatever. Great for in the kitchen when you need to set a timer or check a recipe. Google of course has better resources and a broader scope than an Alex's but you still have to be fairly particular with how you ask questions. I'm trying to teach my Dad how to use it but he gets frustrated that it can't tell him "what was number 1 at Christmas in 1967!" - safe to say I'm not sure he's overly impressed with his gift. Overall, it's a handy gadget, if not a little pricey when I haven't seen it do more than the cheaper echo or dot. Always prefer a Google product though so I'm hoping the extras are just undescovered at this point.
The Google Home Smart Speaker really is a good product. Nicely packaged in an 'Apple' style box, it has a lovely finish, and is an attractive shape. A touch-sensitive dial on top of the product controls the volume. Ask it questions, and it will search Google for the answers. Once set up to a streaming service, it is possible to play music, which is reproduced with remarkable quality, especially when you consider the small size of the product. Bass and Treble equalisation settings are provided in the app, which can be downloaded onto your smartphone or tablet. A Bluetooth connection can also be established between Google Home and your smartphone, again excellent for music playback. We've only just begun to explore the possibilities of Google Home, but for the price paid, this is an excellent product. Thoroughly recommended!