Customer Reviews — Google Home with Google Assistant - White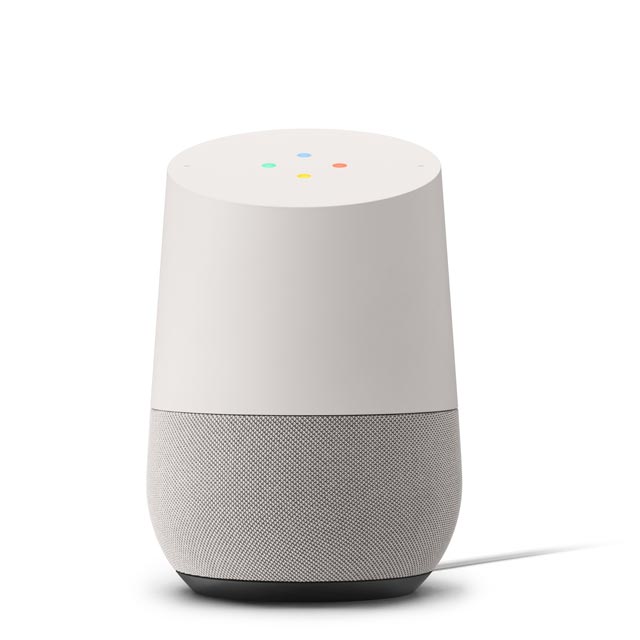 Customer Reviews — Google Home with Google Assistant - White
Google Home with Google Assistant - White
Voice-controlled WiFi speaker for your home

Ask questions, set diary reminders or get news updates

Play music from popular streaming services

Control other smart devices in your home

Works with up to 6 users with personalised settings
Voice recognition is better than I expected. Sound quality is a bit disappointing.
Brought this for our holiday home so guests could use as a speaker and also connect to our Nest heating system. However we were not aware how difficult it is to connect to, you need the Google app on a phone or tablet and then accounts need to be set up. Not ideal for what we wanted so we used an old iPhone set it up with speaker and put in a small locked cash box with power cord plugged in at mains...now guests can access the speaker without downloading all the apps and setting up accounts.
Looks great, sounds okay, works well.
Bought for my youngest daughter's room as we slowly bleed our way away from alexa and over to google. Turns out that in a family household, alexa's failure to allow for child accounts and voice recognition are damning blows. Overall, the sound is reasonable (at least the kids aren't complaining) but obviously nowhere near hifi quality. The lowest setting isn't really low enough for quiet night-time bedroom music, though, imo. Google assistant is pretty awesome, though, and finds new ways to become more useful all the time.
Very pleased with the google home. Easy to set up and link to my music accounts. We have found it to be very useful for getting the answers to our questions and also had fun with the built in games. Of course we have also had fun asking google the usual silly questions. Also made one or two phone calls. Limited in some areas but its being updated all the time. All in all a good and useful product.
Slightly better than echo
Side by side google home is the winner although echo is easier to use on an app. Speaker good, better responses on voice commands( less of i dont know that) . Will convert to google home if they get better interface app for users
Bit of a glorified music player - that you still want.
The Google Home is a great gadget - if you pair it with everything and have the cash to get all the gadgets. Sure it can control your lighting IF you have the specified lightbulbs to go with it. It can even control your home and utilities IF you have the required set up. It has an amazing speaker and great to listen to music whether it's through Spotify or YouTube or whatever. Great for in the kitchen when you need to set a timer or check a recipe. Google of course has better resources and a broader scope than an Alex's but you still have to be fairly particular with how you ask questions. I'm trying to teach my Dad how to use it but he gets frustrated that it can't tell him "what was number 1 at Christmas in 1967!" - safe to say I'm not sure he's overly impressed with his gift. Overall, it's a handy gadget, if not a little pricey when I haven't seen it do more than the cheaper echo or dot. Always prefer a Google product though so I'm hoping the extras are just undescovered at this point.
Great smart speaker, has lots of built in skills. You can ask it anything it will always reply. From recipes and setting timers Its got an encyclopedia of information.
Great once you get used to it
We chose google as we have a lot of music on our google music account But to get the best out of it you have to have your phone on wifi on the same network as the google home unless you want to pay for the premium subscription Set up is very easy, download the home app to you phone turn on the google home, it searches, sets up and then recommends a voice training session and you are good to go This is where this lost a star for me, learning how to communicate with google is highly frustrating at first as it won't find any of your music unless you use a specific "hey google play xxxx from my google music" if you don't get the phrase spot on or don't use the exact album or track name it doesn't find it Where the home has come into its own for me is the activities you can set up, i've set up ones for go to work and come home so I can not only text automatically but it transmits a voice phrase over the speakers to announce i'm on my way. The sound from the home is rich and full but a little bass heavy but this can be adjusted from the google home app on your phone I am already planning the next set of google compatible devices such as hive or nest + some lights